Today we have Super Bowl VIII, between the defending Super Bowl champion Miami Dolphins out of the AFC, going up against the NFC champions, the Minnesota Vikings. This game was held on January 13, 1974, at Rice Stadium in Houston, Texas. This was the first Super Bowl to be held at a site that is not the home to anyone in the NFL.

As always, we have a pop quiz, and then homework at the end of the episode. The pop quiz question for today is: what passing record did the Miami Dolphins set in Super Bowl VIII? The answer will come at the end of the podcast.
Table of Contents (Minimize to the Right --->)
Lombardi Memories is a show that takes you back in time, into January or February, to the greatest one-day spectacle in all of sports. This is the every-other-Tuesday podcast that looks back at each and every one of the 50-plus Super Bowls and tells the story of who won and why.  Tommy A. Phillips is your host on this Super Journey.  He's an author of multiple NFL books.  You can purchase below.
Please Note – As an Amazon Associate, I earn from qualifying purchases
Prelude to Super Bowl VIII
The Dolphins won their first game of 1973 21-13 over the 49ers to give themselves an NFL-record long eighteen-game winning streak. They lost the next week against Oakland, only to start up another winning streak. They won their next ten games in a row, making it 28 wins out of their last 29 games. They finished the regular season at 12-2 and as AFC East champions.
In the playoffs, they had no trouble with Cincinnati or Oakland. The Bengals were in the playoffs for only the second time, and the Dolphins wiped them out in a 34-16 game. Then the Dolphins hosted the Raiders in the AFC Championship Game, and this one wasn't a contest. Miami won 27-10, and they were headed back to the Super Bowl to try to become only the second team to repeat.
Quarterback Bob Griese threw for 1,422 yards and seventeen touchdowns in 1973 while throwing only eight interceptions. Running back Larry Csonka cracked the 1,000-yard mark and rushed for five touchdowns. Receiver Paul Warfield was the team's deep threat, catching 29 balls for 514 yards and eleven touchdowns. The "No-Name Defense" of the Dolphins was one to be feared; defensive back Dick Anderson picked off eight passes and returned two of them for touchdowns.
As for the Vikings, they started this season by winning their first nine games. Their defense gave up twenty or more points only three times the whole season. The Vikings won the NFC Central Division title with a 12-2 record. They then knocked off Washington by a 27-20 score before going to Texas and defeating the Dallas Cowboys in the NFC Championship Game, 27-10.
The Vikings were led by quarterback Fran Tarkenton. He threw for 2,113 yards and fifteen touchdowns, as opposed to just seven picks. His passer rating was a stellar 93.2. Running back Chuck Foreman rushed for over 800 yards and four touchdowns, Oscar Reed had another 400 yards, and Ed Marinaro added another 300.
When it came to pass-catching, receiver John Gilliam led the way with 42 catches for over 900 yards and eight touchdowns. Foreman also caught 37 balls for 362 yards and another two touchdowns. And you can't forget about the Purple People Eaters on defense! Tackles Alan Page and Gary Larsen, and ends Carl Eller and Jim Marshall were as scary a front four as any in NFL history.
The Dolphins and Vikings were headed to Super Bowl VIII in Houston, which was unique since no NFL team called Rice Stadium home. The Oilers were the closest team, but they played in the Astrodome. Thus, Rice Stadium, home of the Rice Owls of the Southwest Conference and now Conference USA has the honor of being called a Super Bowl venue.
Singer Charley Pride sang "America the Beautiful" and the national anthem to begin the day; Pride just died recently due to this awful virus that is our true enemy right now. Please get vaccinated if you can, it is the only way to fight back against this horrible virus.
The Dolphins won the coin toss and got to receive. They had an absolutely perfect opening drive. Jake Scott returned the opening kickoff to his 38. Running back Mercury Morris started the game with a four-yard run. Running back Larry Csonka took his first of many carries for just two yards, then quarterback Bob Griese fired to tight end Jim Mandich for a first down at the Minnesota 38.
Csonka powered ahead for a first down inside the 30, then Griese threw to receiver Marlin Briscoe to get down to the 21. Csonka rumbled for a first down and a gain of eight after that. Morris ran it to the 5, then Csonka blasted in for a touchdown, and the Dolphins led 7-0 after a perfect opening drive.
The Vikings, meanwhile, had an absolutely imperfect starting drive. Running back Chuck Foreman ran it twice and caught a pass, but managed only nine yards. They were forced to punt. Punter Mike Eischeid kicked it away, and Scott fumbled as he returned it. He was lucky, though; Miami recovered the loose ball.
Morris started the new drive with a five-yard run, then Griese found Mandich for a first down past the Minnesota 45. Morris ran down to the 39, then Csonka ripped off an eight-yard run for a first down. Csonka took a draw two plays later and came close to a first down, then he got it on an eight-yard run. Griese fired to Briscoe down to the 1, then running back Jim Kiick took a couple of carries to pound it in for a touchdown to make it 14-0, Miami, at the end of one quarter.
Minnesota quarterback Fran Tarkenton managed a pass for a first down to tight end Doug Kingsriter, but after that, the Vikings were forced to punt again. The Vikings finally stopped the Dolphins, with Page sacking Griese for a loss of 11. But Minnesota's next drive was also a three-and-out when linebacker Bob Matheson and defensive tackle Manny Fernandez combined for a sack of Tarkenton.
Tarkenton threw a pass to Kingsriter that looked to be good for a first down, but the officials ruled Kingsriter out of bounds. Eischeid punted again, down to the 34.
The Vikings got called for a personal foul to start the next drive. Griese found receiver Paul Warfield for his first catch of the game, six yards. That's when Morris ran over the umpire on his way for a first down to the Minnesota 30. Csonka got nine yards on his next three plays, but couldn't get that tenth one. So, kicker Garo Yepremian kicked a 23-yard field goal to move Miami into a 17-0 lead.
This drive proved crucial for Minnesota's chances. Tarkenton threw to tight end Stu Voigt for a first down at the 39. He'd then go back to Voigt on the next third down, completing for a first down at the Miami 46. Tarkenton then found Gilliam open at the 15, and the Vikings called timeout with 1:46 left in the half. Tarkenton scrambled himself down to the 7, but the Vikings soon faced a fourth-and-one. Head coach Bud Grant said, "go for it." Reed took the carry, but he fumbled after a hit by linebacker Nick Buoniconti, and Scott recovered it for Miami. The Dolphins went to halftime with a 17-0 lead.
The Texas Longhorns band did the halftime show at this Super Bowl, back when the halftime shows were rather tame.
The Dolphins forced a three-and-out to start the second half, and Scott returned Eischeid's punt to the Minnesota 43. Csonka ran for several yards, then Griese found Warfield down the left sideline for a first down at the 11. Csonka blasted for four more yards, then the Vikings got called for holding on a third-down play. Two plays later, Csonka blasted in from the 2, and Miami now had an insurmountable 24-0 lead.
Play-by-play announcer Ray Scott asked color analysts Pat Summerall and Bart Starr if even the Dolphins thought that they'd dominate the Super Bowl this way. The two of them answered in unison "no," not even head coach Don Shula could imagine that his team would be in this much command. The Vikings punted on their next possession, and Miami was able to run off more clock before the end of the third quarter.
The Vikes finally got on the board early in the fourth quarter. Tarkenton threw to Foreman to get past midfield, then he found Voigt, who made a great catch at the 39. Gilliam caught one for nine more yards, and Reed ripped off a run down to the 13. Receiver Jim Lash caught one down at the 4, then Tarkenton ran it in for a touchdown to break the shutout and make it 24-7.
Minnesota then seemingly recovered the onside kick, and for a brief second, it looked like we might have a game here. However, the Vikings were offside on the kick, and they had to do it again. This time, they squibbed it down to the 33. The Dolphins went three-and-out, so theoretically Minnesota still had a chance. Tarkenton got the Vikings as far as the Miami 32 on a pass to Marinaro. However, he then threw an interception to defensive back Curtis Johnson. The Dolphins would hold on to win 24-7, but not before Csonka set Super Bowl records for most rushing attempts, 33, and most rushing yards, 145.
Super Bowl VIII Awards and Aftermath
But the Dolphins also set another Super Bowl record in this game: the fewest pass attempts by a team in Super Bowl history. They threw only seven passes, six of which were complete. One more completion and they could have been the only team to have a perfect game passing. As it was, they broke that record, which is the answer to today's pop quiz. Seven pass attempts by a team in an entire Super Bowl game. Can you believe it?
Who was the Most Valuable Player on the losing team of this game? I've got to give it to Alan Page. He blew up several Dolphin plays in the backfield. He was definitely a force even when the rest of his team was not. He deserved better from his teammates.
The second-most valuable player, who would that be? Well, since Csonka won MVP, the second award would have to go to Buoniconti. He forced that crucial fumble at the end of the first half, and his defense dominated play for much of the afternoon. He deserves full credit for a great performance on this day.
The Least Valuable Player of this game is a tough award to give out because Minnesota's bad performance was a team effort – no one player really stuck out as the worse. Nevertheless, I'm going to give it to Tarkenton. If you're a Hall of Fame quarterback, you really need to go get more than seven points in a game. Tarkenton just didn't have his magic on this day, and the Vikings suffered as a result.
The best player in this game that you've never heard of? That would be Vikings running back Ed Marinaro. He made several big plays in a losing effort, yet when I heard his name, I thought it was Marinara like Marinara meatball sauce. As it turns out, he put up a good performance for the Vikes, even when his team just couldn't get much accomplished on this day.
The biggest play of the game had to be Reed's fumble on fourth-and-one. If he gets that first down, then the Vikings likely go to the half down only 17-7, and they have a lot of hope going into the second half. Instead, they didn't get it, and they went to the half down seventeen.
The biggest play no one remembers, though, is Jake Scott's fumbled punt early in the first quarter. If Minnesota falls on that ball, then it changes the entire complexion of the game. As it was, Miami got lucky and was able to recover that fumble. Who knows what may have happened had Minnesota gotten that football.
Finally, here's some homework for you. Go out and get this book: Shula: The Coach of the NFL's Greatest Generation, by Mark Ribowsky. If there's anyone member of this Miami Dolphins team to look back on, it's Shula himself. What a great man and great coach he was, and this book covers his entire career.
That is all I have for today. In two weeks, we begin the greatest dynasty in the Super Bowl era, the 1970s Pittsburgh Steelers. The Vikings make it back to a second straight Super Bowl, only to run into one of the greatest teams of all time, the 1974 Steelers. Until then, this is Tommy A. Phillips. So long!
More From Lombardi Memories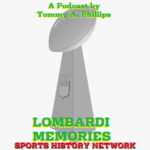 Today we have Super Bowl XVIII, which was held on...
Read More