On our road throughout the NFL, we take a little trip to Duval County, in the state of Florida, to look at the history of the Jacksonville Jaguars.
We also have a special guest, Dan Edwards, the Senior Vice President of Communications of the Jaguars. 
This article is also a podcast over at the Football Is Family if you are interested in listening, you can do so below.  You can also read the full article if this is your preference.
FOOTBALL IS FAMILY

Every Thursday, host Jeremy McFarlin shares the history of one NFL team.  He also brings on a guest (or more) each week to share why their NFL team feels like a part of their family.
Jacksonville For An NFL City?
Being a fan of the Tennessee Titans, I've seen the Jags play live at Nissan Stadium more than another NFL team. Over the years, I've seen the Jaguars excel in the running game and typically have a strong defense, especially in the front four and the cornerbacks.
Players like Calais Campbell, Jalen Ramsey, and Maurice Jones-Drew, among many other greats, have haunted my memories and have regularly given me tough games when I play Madden.

The Jags have an interesting origin story that actually started in 1989. The NFL doesn't expand very often, so when it does, you have to be ready. Back in 1989, the city of Jacksonville started to get ready. "Touchdown Jacksonville!" was the movement to get the citizens of Jacksonville and Duval County ready to take on whatever it took to get a team.
There were three main problems with this:
Jacksonville wasn't a big television market (the 54th biggest in the country- only Green Bay trailed Jacksonville in NFL cities)
10 other cities were up for an expansion team
The only football stadium available at the time was the Gator Bowl- not the best stadium, but it was a start.
Jacksonville Makes the Cut
Jacksonville eventually made it to the top 5 cities (Memphis, Baltimore, St. Louis, and Charlotte being the others). Finally, in Nov. 1993, Jacksonville was awarded the 30th expansion team.
Wayne Weaver (the owner at that time) was so confident that they would receive the bid, had named the team the Jaguars before the city was even picked.  The city of Jacksonville, and Duval County, as a whole, supported this team from even before it was announced.
Jacksonville had previously dropped its name from competition for an NFL team due to the condition of the Gator Bowl.
The city of Jacksonville, at that point, agreed to 53 million dollars in public funds to go along with 68 million in private funds to fix up the Gator Bowl. That action propelled Jacksonville back in the race for a team.
Jacksonville's first college draft pick was Tony Boselli, who should be in the Hall of Fame. Their first expansion draft pick was Steven Beurlein.
Currently, Jacksonville is owned by Shahid Khan, who has the best mustache ever. Their overall win/loss record in the regular season is 176-224. In the postseason, they are 7-7. They do not have any Hall of Famers, but that should change soon.
This team made major strides early in their existence. Their first-year record was 4-12, which doesn't sound like much, but it was the record for most wins by an expansion team in its first year.
By 1996, the Jags won their first playoff game by beating the Buffalo Bills (Jim Kelly's last game). They made the AFC Championship game in 1996, 1999, and 2018.
This week's guest is Dan Edwards, the Senior Vice President of Communications for the Jacksonville Jaguars.  He was with the Jaguars since the beginning, in 1994.  Dan stands alone with 5 others on the Jaguars staff with this distinction.  Although the 2020 season is Dan's 27th year with the team, it's 37th season with the NFL.  You can learn more about Dan on the Jaguars website.
Dan Edwards Interview Transcript
Name and position with the Jacksonville Jaguars- Dan Edwards, Senior Vice President of Communications.
Jeremy – What does that position entail?
Dan – It includes communication, public relations department, our broadcasting and digital content creation department, and our game production department, meaning video boards.
Jeremy – I looked at your website, it is fantastic. Are you over that as well?
Dan – The content really flows from my area and then involves a lot of people and a lot of teams including the social and digital group.
Jeremy – You are doing a great job with that. I appreciate seeing that. By the way, did you have anything to do or did you have a say in the uniforms and helmets because they look fantastic as well?
Dan- Not a lot of input, but I agree, they are a big improvement over what we had previously.
Jeremy – Well, let's just say that, when they (the Jaguars) came out, back in 1995, they (the jerseys) needed a little improvement, and they did a great job. And, in fact, with Mr. (Gardner) Minshew wearing them they look just fantastic.
Dan – It's a nice change. Our uniform has evolved a little bit over the years and we kind of gone back to a little bit of a retro look, more of what our original uniform looked like, a classic look, and more teal.
Jeremy- Absolutely, absolutely. Now, let me run a question or two by you if you would please.
Jeremy – I saw on your bio that you are one of six people that have been with the Jaguars since the beginning of the team.
Dan- That's right. The team was founded in late 1993. A bunch of us joined in early 1994, and, as you said, six of us are still here.
Jeremy – What did you start out doing there?
Dan – Basically the PR director, executive director of communications, was my title at the beginning. I oversaw PR, publications, and community relations.  And, over time, the job has evolved a little bit, a few departments have been moved around and reorganized and kind of shuffled. But PR is really how I came up in this business and that was my first job and that is really the backbone of what I do today.
Jeremy – You love being with the fans. You love being with the people. Do you go to every game you can?
Dan – Absolutely. I have been to pretty much all of them.
Jeremy – Well good. Do you get to go to the London games?
Dan – Yes. Every year, yes.
Jeremy – So you have seen I've counted, I might be off, seven games?
Dan– That sounds right.
Jeremy– What have you noticed about those games and the environment over in London?
Dan– Well it is a totally different stadium environment because it's a full house, 80,000 fans and you see every NFL jersey there is. Every team. People will have their favorite team and they will wear that jersey so you can sit at a game and count all 32 jerseys in the stands.
But our fan base has really grown there and I think that one thing we have seen is that, as more and more games have been played there, the fans have become more knowledgeable of the game, more I think aware of the nuances of American football and how different it is from rugby or their version of football, so it has been fun watching that develop.
Jeremy – Is that something y'all want to continue doing?
Dan – Yes. We would like to continue playing the game. We were actually going to play two games there this year. Of course, the pandemic canceled all the international games. But we would like to continue playing.
Jeremy – You going to transfer both of the games back to Jacksonville?
Dan – That's right. Yes.
Jeremy – Let me run through a couple of questions for you. Number one: this podcast is over how football is family. To me, growing up in Tennessee, we didn't have a team until 1999, so I went to Denver for my team.
One of my first memories of Jacksonville is them beating my Broncos in 1996, which still kind of hurts deep inside. What are some of your first memories of the NFL? I notice in the corner there that you went to Oregon, is that correct?
Dan – That's right.
Jeremy – You have a football team up there that you enjoy. What about the NFL? What are some of your first memories?
Dan – My very earliest was when I was growing up in Wisconsin. I was 8 years old and the Green Bay Packers were the closest team and they won the first two Super Bowls, so they became my favorite team. That was my earliest memories of the NFL.
Later on, graduating from college, it occurred to me that sports was a pretty good business to try to break into and I was able to get a couple of internships and get started in the NFL. Every year and every team and every experience has been very different. The game has changed a lot, not necessarily on the field a lot- everything around it has changed a lot.
The media has changed. The way fans follow the game has changed. So there are so many memories. It's fun to reflect back on how things have changed, and how great the game is today.
Jeremy – That's fantastic. So you got to see the Lombardi Packers?
Dan – Yes. Absolutely. I remember when I was working with the Steelers and we played at Lambeau Field, which was the first time I was actually in Lambeau Field. And we got there and the team got off the bus and went in the locker room and I went down the tunnel to the field to the end zone and walked straight down the middle of the field to the outer end and it was empty and getting chills because of the memories I had growing up as a little boy watching games on that field.
Jeremy – That must be one of those things that you will never forget. I saw on your bio as well that you were part of the Dolphins when they went to Super Bowl 19, is that correct?
Dan – That's correct. Spent one season with the Dolphins as an intern and it was a good season because we went to the Super Bowl and lost to the 49ers at Stanford Stadium.
Jeremy – That was the year that Marino went off.  Over 4,000 yards, 47-48 touchdowns.
Dan – Marino and Mark Duper and Mark Clayton. It was a good team. And it is amazing- people thought that Marino would be back many times in the Super Bowl and he never got back after that.
Jeremy – Do you have any memories about that team?
Dan – It was a fun team. I remember as a PR intern I dealt with the players on a daily basis, of course, with the media. I remember Dan Marino really having to give him a pep talk every week because he would get tired of doing interviews, not wanting to do stuff, and kind of telling him that he needs to do this.
He would always rise to the occasion and do a great job. It was fun for the season to kind of crescendo at the end and get to the playoffs and go to the Super Bowl. That was a fun run.
Jeremy – Looking back, Marino probably had the best head of hair in the NFL at that time.
Dan – Probably right.
Jeremy – You have served 27 years for the Jacksonville Jaguars. You have seen some great players in the process. Now I have written down here a few players that I can remember. Mark Brunell, the lefty from Green Bay. Jimmy Smith. Tony Boselli who, to me, is one of the best offensive linemen ever.
Keenan McCardell. Calais Campbell, who I think is no longer on the team.  One of my favorite players is Maurice Jones-Drew. Do you have any players who we don't always think about that are special to you for one reason or another?
Dan – Fred Taylor would be one of them. Fred came in as a rookie from the University of Florida. He became my star student, from a PR standpoint. He listened to everything I told him he should do. He asked for help. He responded to the point that he is one of the best spokesmen for our franchise.
Fred was a start on the field and he became a star in his own business. He is one that I have a special place for.
Jeremy – So he works alongside your team now still?
Dan – He has done preseason tv for us and he does an in-stadium show for us for our home games and he does our pre-game and post-game radio show for us. So, yes, he is still involved with us.
Jeremy – Just down the road about three or four hours from where I'm living right now in Knoxville, TN. Home of the University of Tennessee Volunteers. You had a player named John Henderson there. Did you ever slap him?
A little background: John Henderson wanted to be slapped in the face before every game, didn't he?
Dan – Yes. That was one of our athletic trainers. That was part of John's getting ready to go out on the field. He wanted Joe to slap him on the face and kind of get the blood going. That, of course, made NFL Films and tv happy when they saw that.
John was a great football player and a gentle giant. He still lives here in Jacksonville and is another guy who is still involved and around the team and it is good to see a lot of our alumni who are still around.
Jeremy – Have the fans embraced the team a lot more in the last few years? It looks like there were some problems for a little bit- have the fans embraced the team more?
Dan – They really have. I give our fans credit. In the past decade, we have only had one winning season. It is hard to have patience and tolerance and keep coming back when the team struggles like we have for so long.
We went to the playoffs in 2017 and went all the way to the AFC Championship- that kind of brought a lot of people back, and we need to do that again. There is no question that, in this business, there is no replacement for winning. You have to win. No team can have winning seasons every year (except the Patriots).
You have to give your fans hope that you can win. That's where we are. We have rebuilt our roster and we are trying to get back to winning.
Jeremy – I have noticed as well that you have two sons who work for NFL teams. Is that correct?
Dan – That's right.
Jeremy – Do you have any tension on Sundays?
Dan – No. We are all busy with our own games. It is kind of fun to talk Sunday nights after the games. We all do a little scoreboard watching. We do root for each other's teams to win. We want everyone in the family to have success.
When we play each other we want our team to win. Other than that, we root for each other's teams.
Jeremy – Two more questions and I'll let you go. I appreciate your time today. Thanksgiving to me has always been a special time for me and my family. And now that we have three NFL games on a Thursday is an amazing thing to me. How is Thanksgiving to you in that sense? Do you get to spend time with your family or is it pretty hard to?
Dan – It has always been a workday for me. My kids grew up with me working in this business.  Thanksgiving, even if you weren't playing a game was a practice day. We would usually practice early. Coaches would want to get players in early and get a good practice and then get them home so they could have family time in the afternoon.
That's kind of routine. That's normal for our family. But I agree. It is a great holiday. There's nothing better than having three consecutive football games to watch after you fill up on turkey and everything else.
Jeremy – Sometimes I watch a game and then I close my eyes and the teams change jerseys for some reason. Maybe I slept through the game. That's part of it. One last question- I appreciate the time. What makes football feel like family to you?
Dan – The fact that both of my sons work in the business, work in the league. My son-in-law is also with another team. It is really what our family has grown up with. We refer to ourselves as a football family. We've grown up with this and don't know anything else. I'm excited to see my sons establish their own careers in the league and get to have that same enjoyment that I have had for so long.
Jeremy– If anyone in the Jacksonville area wants to get in touch with y'all for tickets, where should they go?
Dan – Go to Jaguars.com. We are one of only 5 teams in the league that are going to have fans in the stands for the games. We are selling tickets. You can go to Jaguars.com to buy tickets.
Jeremy – Anything special for the pandemic?
Dan – Capacity is reduced to 25%. It will be around 16-17,000 at the most. We will require masks for everyone. We will have all the protocols and all the safety measures taken by the CDC. The League has been very aggressive with safety protocol- they want to keep the teams and the fans safe.
Jeremy – Thank you, Dan. There you have it. Another football fan and the reasons why football is family.
Please Note – As an Amazon Associate I earn from qualifying purchases
More From Football Is Family
There are times in life when you are humbled by...
Read More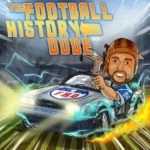 If you live in the United Kingdom, football means something...
Read More