When you were a kid did you ever pretend you were living some of the greatest sport's moments of all time?  This week's guests, John Eisenberg, talks about just that.  However, he took it to the next level.  He would head inside to his typewriter and retell the story as if he were a beat reporter for the game he just "played."  Flash forward, John is now a sportswriter for the Baltimore Ravens and many more.  Talk about "living your dream" you had as a child.
In this episode we cover some of these topics:
The origin of his love for sportswriting
His transition from Dallas to Baltimore
Stories from his NFL books
Where he's taking the DeLorean
Much more
Listen to the full episode, learn more about John, and check out his books below.
John Eisenberg's Bio and Books
John started out as a young boy in Dallas, TX as an enthusiast for sports.  As discussed, he took this love and passion well beyond most kids.  We talk in the interview about how he would complete an imaginary basketball or football game, run inside, and then sit in front of his typewriter and retell the game like a sportswriter would.
And so began his journey as a sportswriter.  He attended of the University of Pennsylvania, majoring in English, while also working for the school newspaper – The Daily Pennsylvanian.  After college, he made it in the big leagues, first with his hometown of Dallas, TX.  John worked his way to his own column in Baltimore, where he has spent the majority of his career, still writing about the Baltimore Ravens.  He's not only a sportswriter for the NFL, but as this show covers the history of the NFL, that's what I'm focusing on.
Speaking of the NFL, John ended up writing multiple football books, as well as other sports.  To learn more about John you can head to his website.  Below are John's books.
The books below are links to Amazon.  Please note – As an Amazon Associate, I earn from qualifying purchases.
The League is the original reason why I brought John on the show  This book covers "How Five Rivals Created the NFL and Launched a Sports Empire."  John tells the story of Art Rooney, George Halas, Tim Mara, George Preston Marshall, and Bert Bell.  He covers how they made decisions that turned the NFL into the great business it is today.
That First Season covers the remarkable turnaround Vince Lombardi had after taking over a losing Green Bay Packers team.  He basically had most of the same players he took over from the losing team, but he was able to take them to multiple championships, and then we all know what happened after that.  Lombardi won a couple Super Bowls and had a trophy named after him.
Ten-Gallon War is a book about the 2 teams in Dallas during the 1960's.  On the AFL side, you had the Dallas Texans (later to be moved to Kansas City as the Chiefs).  On the NFL side, you had the Dallas Cowboys.  We all know now what team came out on top, but there were many stories in the middle the book covers.
Cotton Bowl Days covers John's days growing up in Dallas, TX being a fan of pro football.  It's a little more personal and has some recounts you can't get anywhere else.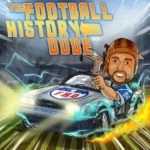 This week I spoke with Michael Mertes about a project...
Read More