I can tell you this- I love my job. I love the people, the time, the work, and the situations that my job gives me.  I'm sure you can say that about the jobs that you have had or have now.
If you have a dream job, what would it be? When I was growing up, I wanted to play video games for a living. Now, working for the Tennessee Titans would be my dream job.
What if you have the chance to work alongside NFL teams, players, coaches, and executives? I know every job has its highs and lows, but imagine being able to work alongside the NFL every day?
This article is also a podcast over at the Football Is Family if you are interested in listening, you can do so below.  You can also read the full article if this is your preference.
FOOTBALL IS FAMILY

Every Thursday, host Jeremy McFarlin shares the history of one NFL team.  He also brings on a guest (or more) each week to share why their NFL team feels like a part of their family.
Luke is in his third season covering the Tennessee Titans for A to Z Sports Nashville. He's a Nashville native who's been writing about the team since 2015. He also co-hosts a Titans-themed podcast titled "No-Nonsense," which is available on all major podcast platforms.
Please Note – As an Amazon Associate I earn from qualifying purchases
More From Football Is Family
There are times in life when you are humbled by...
Read More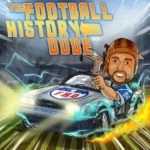 If you live in the United Kingdom, football means something...
Read More