Today we have Super Bowl XIV, which was held on January 20, 1980, in the Rose Bowl in Pasadena, California between the three-time and defending Super Bowl champion Pittsburgh Steelers and the first-time NFC champion Los Angeles Rams.
As always, we have a pop quiz, and then homework at the end of the episode. The pop quiz question for today is: the Rams made it to the Super Bowl with seven regular-season losses. What two other teams have reached the Super Bowl with seven losses? The answer will come at the end of the podcast.
Prelude to Super Bowl XIV
The defending Super Bowl champion Pittsburgh Steelers were rather vulnerable in 1979. They only barely won their season opener at New England, then suffered two losses in three games in midseason. They got killed 35-7 by the Chargers, and they lost an emotional game late in the season to Houston. Having said all that, they still finished 12-4 and won the AFC Central.
The Steelers won an easy divisional-round game over Miami, 34-14. In the AFC Championship Game against Houston, the Steelers held a tentative lead when the Oilers seemingly completed a touchdown pass that got overruled by the officials. Some say it cost Houston the game, I say it didn't. Pittsburgh won by two touchdowns anyway, 27-13, and advanced to its fourth Super Bowl.
Pittsburgh was led by quarterback Terry Bradshaw, who had a monster year with 3,724 yards and 26 touchdowns. He also threw 25 interceptions, making his passer rating only 77.0. But boy, did he light it up in the air! Receiver John Stallworth caught 70 passes for 1,183 yards and eight touchdowns, leading the team in all categories. Receiver Lynn Swann had 41 catches for just over 800 yards and five scores, and tight end Bennie Cunningham caught 36 passes for just over 500 yards and four touchdowns. Running back Franco Harris led the ground game with 1,186 rushing yards and 12 total touchdowns.
The L.A. Rams were not the type of team you'd expect to see in the Super Bowl. They were 4-5 at midseason and 5-6 after Week 11. But they won four games in a row to take the NFC West crown, and they made it into the playoffs as the lowest-ranked NFC division champion. They then narrowly defeated the #1-seeded Dallas Cowboys 21-19 in the divisional round to advance to the NFC Championship Game at Tampa Bay. What was it about the Rams and Buccaneers playing low-scoring NFC Championship Games? They'd have a similar low-scoring affair 20 years later. As for now, the Rams beat the Bucs 9-0 to advance to their first Super Bowl.
Quarterback Vince Ferragamo took over for Pat Haden at midseason, and his numbers were not that great: 48.2 completion percentage, just five touchdowns to ten interceptions, and a 49.0 passer rating. But the Rams succeeded thanks to their running game – Wendell Tyler ran for over 1,100 yards – and their defense. The Youngbloods were a force to fear on defense, and the Rams had great defensive backs such as Nolan Cromwell and Dave Elmendorf. The Rams could keep any game close because of their strong defense.
Super Bowl XIV: First Quarter
The Rams won the toss and chose to receive. They went three-and-out and punted it to Pittsburgh. The Steelers got their offense going with a run by running back Rocky Bleier up the middle for a first down at the 32. He came close to getting another first down, and Harris picked it up from there. Bradshaw then threw over the middle to Harris, and he picked up 32 yards down to the 26. That set up a 41-yard field goal by kicker Matt Bahr, who barely got it over the crossbar for a 3-0 Pittsburgh lead.
The Steelers tried a surprise onside kick, but it failed, and L.A. got great field position. Tyler started the Rams' ensuing drive with a six-yard catch and a 39-yard run down to the 13. Running back Lawrence McCutcheon ran it three times to get a first down at the 3. After Tyler was stopped twice, running back Cullen Bryant scored on third down, and the Rams took a 7-3 lead.
Defensive back Larry Anderson took back the ensuing kickoff 45 yards. Harris ran for a first down, then Bleier ran a couple of times to get another first down. Bradshaw threw to Swann for a first down at the 18, then he found Cunningham for another new set of downs at the 5. Three plays later, Harris got in from the 1 and Pittsburgh took a 10-7 lead early in the second quarter.
Super Bowl XIV: Second Quarter
The Rams weren't about to be pushed around, though. Tyler ran for and caught a pass for a first down. Ferragamo then went to McCutcheon for another first down. A long pass fell incomplete, but Pittsburgh defensive back Donnie Shell got called for pass interference down the sideline. That set up kicker Frank Corral for a 31-yard field goal to tie the game at ten.
Anderson ripped off another great return, this time 38 yards. But the Steelers offense went three-and-out, and the punt went for a touchback. Ferragamo completed a third-down pass to Terry Nelson, but the Rams were forced to punt. On this Steeler possession, Elmendorf made an interception of a Bradshaw pass. Ferragamo completed a 12-yard pass to Bryant, and he found receiver Billy Waddy on a fourth down for a first down. He hit Nelson for a first down at the 14, before Pittsburgh defensive tackle John Banaszak got a sack. Corral came on to try a 45-yard field goal, and he made it to put L.A. up 13-10 at the half.
Super Bowl XIV: Third Quarter
Starting out the second half, Anderson got yet another great kickoff return, this one 37 yards. The Steelers then sandwiched two Bradshaw passes to Swann around three runs, two by Harris. The second of those passes was a 47-yard touchdown, on which Bradshaw found Swann on a deep ball. Bahr made the extra point, and Pittsburgh went up 17-13.
The Rams started their next drive at the 24. Ferragamo passed to Bryant for a short gain, before facing third-and-long. He then threw a deep ball to Waddy, who hauled it in for a 50-yard gain at the Pittsburgh 24. Next, head coach Ray Malavasi called for a trick play. McCutcheon took a handoff to his right, then passed downfield for receiver Ron Smith. Touchdown! Corral missed the extra point wide left, but L.A. now led 19-17.
The next two drives for Pittsburgh ended in picks. First, Bradshaw almost had one returned for a pick-six by defensive back Nolan Cromwell. It fell incomplete, but three plays later Eddie Brown picked one off and lateraled to Pat Thomas, reaching the 38. The Rams punted, and Pittsburgh moved the ball downfield with a 20-yard pass to Harris and a 22-yard pass to running back Sidney Thornton. But Bradshaw had a pass tipped and intercepted by defensive back Rod Perry, and Los Angeles took their two-point lead into the fourth quarter.
Super Bowl XIV: Fourth Quarter
On the Rams' next drive, Steelers defensive tackle Steve Furness and linebacker Loren Toews combined on a sack of Ferragamo that forced a punt. Punter Ken Clark got away a 58-yard kick, and the Steelers got it back at their own 25. With Swann on the bench with an injury, Bradshaw faced a perilous moment – third-and-eight down by two points. On the fateful play, he threw a bomb. John Stallworth got underneath the pass and made an amazing catch, then sprinted 73 yards for a touchdown. Bahr's extra point was good, and the Steelers led by five.
That was the sixth lead change of the game, and it would also be the last. The Rams went three-and-out, but so did the Steelers. Los Angeles got the ball back, with about five to six minutes to get the winning touchdown. Ferragamo found Preston Dennard for a first down, then he hit him again at midfield. Waddy hauled in a pass for 14 yards, and the Rams had the ball at the Pittsburgh 32. The defensive play of the game was then made by Steelers linebacker Jack Lambert. He picked off Ferragamo's pass down the middle and returned it to the Pittsburgh 29. If Lambert doesn't step in front of that pass, maybe the Rams score there, or maybe they score a bit later. In any case, it was Pittsburgh ball with four minutes to play.
Facing third down again, Bradshaw threw up a rainbow to Stallworth, and once again he made an over-the-shoulder catch, this time for 44 yards to the L.A. 23. Bradshaw went to the end zone two plays later, and the Steelers drew a pass interference flag on defensive back Pat Thomas. After the two-minute warning, Harris pounded it in, and Pittsburgh went up by 12. Victory was all but assured for the Steelers now. The Rams got as far as the Pittsburgh 30 on their final drive, but they turned the ball over on downs, and it was all over. The Pittsburgh Steelers had won Super Bowl XIV, 31-19, and head coach Chuck Noll was now a four-time Super Bowl champion!
Super Bowl XIV: Aftermath and Awards
Terry Bradshaw was named Super Bowl MVP for a second consecutive year. Only Bart Starr of the Green Bay Packers has also been named Super Bowl MVP in back-to-back seasons. Though, I wouldn't give this MVP to Bradshaw, if I had the choice. Pat Summerall said it during the broadcast: Stallworth deserved MVP. Bradshaw threw three interceptions, and those were a big reason Pittsburgh fell behind.
Stallworth came up with two monster catches that totaled over 100 yards themselves. He ended up with three catches for 121 yards and a touchdown. His two fourth-quarter catches decided the game all by themselves, and they were amazing beautiful catches. There's no other way around it; Stallworth deserved MVP. Bradshaw deserves a ton of credit, but Stallworth got him that MVP.
Who would be the most valuable player on the losing team? I'd have to go with running back Wendell Tyler; he rushed for 60 yards on 17 carries, and he caught three passes for 20 yards. Those aren't amazing numbers, but they are the best of anyone on the L.A. offense. The Rams defense played a big role in keeping the game so close; however, there wasn't one defensive player who stood out as the most valuable. I'm still going with Tyler, though, as he played a vital role in helping the Los Angeles offense hold that lead after each of the first three quarters.
The Least Valuable Player? I'm going with Rams defensive back Pat Thomas. He got called for a pass interference flag on the Steelers' final possession that set up Harris' one-yard touchdown run. If he doesn't get called for it, the Rams probably lose anyway; but there really wasn't anyone who was LVP of this game. Both teams played hard and played well. Thomas just made a bad mistake at a crucial time.
The best player you've never heard of? How about Larry Anderson, kick returner for the Steelers? He returned five kickoffs for 162 yards and a 32.4 average, all Super Bowl records. His performance was the greatest performance by a kick returner in Super Bowl history up to this point, as well as probably still the greatest by a returner who didn't score a touchdown. I even thought of naming him MVP, because he put the Steelers in such a good field position on several occasions.
The biggest play of the game was Stallworth's 73-yard touchdown reception. It came on a third-and-long with Pittsburgh losing by two. If Stallworth doesn't make that catch, maybe the Rams win. I think the Steelers would have pulled it out anyway eventually, but Stallworth's catch (and Bradshaw's throw) completely turned the game on its head.
The best play that goes overlooked had to be Jack Lambert's interception in the fourth quarter. No, it's not a play that no one remembers, because most people probably do remember that pick. However, it gets overshadowed by Stallworth's amazing catches, Bradshaw's prolific passes, and Harris' hard runs. Lambert's pick essentially sealed the game for Pittsburgh, and that's why he's a Hall of Famer.
The Rams gave it all they had and came up short. They were a Cinderella story, having lost seven games during the regular season. Who are the other two to reach the Super Bowl with seven losses? The answer to this week's pop quiz question is the 2008 Arizona Cardinals and the 2011 New York Giants.
The Cards lost Super Bowl XLIII to the Steelers, and the Giants won Super Bowl XLVI over the New England Patriots. It is interesting that two of Pittsburgh's six Super Bowl victories came over two of the worst teams to ever reach the Super Bowl.
This week's homework is simple: Steel Dynasty: The Team That Changed The NFL by Bill Chastain. This book covers the whole Steelers dynasty, but in particular, it's got some pretty good stuff on the 1979 Steelers and Super Bowl XIV. It also includes an epilogue on the fall of the dynasty, which is helpful as we move on to the eighties, a decade in which Pittsburgh made just one AFC Championship Game and zero Super Bowls.
I also would like to inform you of a new podcast that has been released. It is called "With the Benefit of Hindsight…" by professional documentary maker John Ziegler. This podcast is all about the so-called Penn State scandal, and it will hit you like a bucket of cold water. You will have your eyes opened to the truth about that situation, and you will find that what really happened is quite different from what you learned while watching the news.
Lombardi Memories is a show that takes you back in time, into January or February, to the greatest one-day spectacle in all of sports. This is the every-other-Tuesday podcast that looks back at each and every one of the 50-plus Super Bowls and tells the story of who won and why.  Tommy A. Phillips is your host on this Super Journey.  He's an author of multiple NFL books.  You can purchase below.
Books From The Host Of Lombardi Memories
Please Note – As an Amazon Associate, I earn from qualifying purchases
More From Lombardi Memories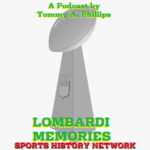 Today we have Super Bowl XVIII, which was held on...
Read More