Today we have Super Bowl VII, between the NFC champion Washington Redskins and the AFC champion Miami Dolphins. It was held on January 14, 1973, at Los Angeles Memorial Coliseum in the heart of USC country, the final Super Bowl to be held at this historic site.
As always, we have a pop quiz, and then homework at the end of the episode. The pop quiz question for today is: what event that took place at least one time in all six previous Super Bowls did not take place in this game? The answer will come at the end of the podcast.
Read the whole story or listen to the podcast episodes below.
Table of Contents (Minimize to the Right --->)
Lombardi Memories is a show that takes you back in time, into January or February, to the greatest one-day spectacle in all of sports. This is the every-other-Tuesday podcast that looks back at each and every one of the 50-plus Super Bowls and tells the story of who won and why.  Tommy A. Phillips is your host on this Super Journey.  He's an author of multiple NFL books.  You can purchase below.
Please Note – As an Amazon Associate, I earn from qualifying purchases
Prelude to Super Bowl VII
These two teams couldn't have possibly been more different. Redskins head coach George Allen constructed a roster made up of wily old veterans, and his team was called the "Over the Hill Gang" in response. The Redskins got off to an 11-1 start in 1972, losing just their third game by one point while winning the rest. After their 9-game winning streak came to an end, they lost their final two games but still won the NFC East.
The Redskins were led by quarterback Billy Kilmer, who took over for Sonny Jurgensen. Kilmer threw for 1,648 yards and 19 touchdowns, while also tossing 11 interceptions. His main receiver was Charley Taylor, who caught 49 balls for 673 yards and seven scores. Running back Larry Brown led the team in rushing with 1,216 yards and twelve total touchdowns.
In the NFC playoffs, Washington walked right over their opposition. First came Green Bay, a team that had finally recovered from losing Vince Lombardi. They won the NFC Central title in 1972. But Washington dispatched them easily, beating them 16-3. Next came Dallas, who made a miracle comeback in San Francisco to advance to the NFC Championship Game. Again, it was no contest. The 'Skins beat Dallas 26-3 to move on to Super Bowl VII.
As for the young Miami team, this was the most famous single-season team outside of the 1985 Bears. Look up and down their slate of games, and all you see is "W"'s. That's right, the Dolphins won all 14 regular-season games, the first perfect team in a regular-season since the thirties. But no team had ever made it through the playoffs unscathed. They beat Cleveland 20-14 in the divisional round to advance to the AFC Championship Game at Three Rivers Stadium.
Yes, that's right, as we talked about last week, home-field advantage was determined on a rotating basis, so the undefeated Dolphins had to go on the road for a playoff game. Nevertheless, they defeated the Immaculate Reception Steelers 21-17 to clinch their spot in the Super Bowl.
The Dolphins had a three-headed monster in their backfield. Fullback Larry Csonka bruised his way to 1,117 yards. Mercury Morris ran for exactly 1,000 yards on the nose, scoring 12 touchdowns. And Jim Kiick added another 521 yards. Because of all of their running, the Dolphins didn't need to pass the ball much.
When they did, they were in the very capable hands of Earl Morrall, who took over for Bob Griese when he got hurt. By the Super Bowl, however, Griese was healthy and ready to lead the Dolphins into Super Bowl VII.
The Dolphins won the toss and chose to receive. They couldn't move the ball much on their first possession, so they punted after a nice tackle on Csonka by linebacker Jack Pardee. Punter Larry Seiple got away a 50-yard punt, and the 'Skins started at their own 25. Kilmer threw a flare pass out to Brown, and he got a first down. However, that was all Washington could do, and they punted it back.
The next two possessions were more of the same. Redskins defensive end Verlon Biggs sacked Griese to help force a punt. The Redskins didn't do any better on offense, and they kicked it back. Miami got going on their next drive with a Kiick run for a first down to the 47.
Griese then threw a rare pass, going to receiver Paul Warfield for a first down at the Washington 33. Csonka and Kiick both ran it, and they got it inside the 30. Griese then fired a pass to Howard Swilley, who caught it right of the hash marks, and he went in for a 28-yard touchdown. The Dolphins led 7-0 after one quarter.
Kilmer had a pass intercepted by defensive back Jake Scott early in the second quarter. Scott returned it to the Washington 48, but his offense failed to move the ball. Fortunately for Miami, their defense was up to the task. They forced a punt as well, and they got the ball back at their own 32.
Csonka ran for a first down, and Kiick took a pitch inside Washington territory. Griese then went off play-action and gunned it downfield, complete to Warfield for a touchdown. But hold the phone! The Dolphins got called for illegal motion, and the play was wiped out. They ended up eventually punting.
The Redskins got the ball to around midfield by the time the two-minute warning went off. On the very next play, though, Kilmer threw an interception to linebacker Nick Buoniconti. He returned the pick to the Washington 27. After a couple of runs, Griese found tight end, Jim Mandich, for a first down at the 2. Kiick scored two plays later from one yard out, and the Dolphins led 14-0 at halftime.
To start out the second half, the 'Skins put together a great drive. Kilmer threw over the middle to tight end Jerry Smith for a first down at the 41. Kilmer then found Taylor for another first down at the Miami 43. His next pass went to receiver Roy Jefferson, who caught it for a first down at the 25. Running back Charlie Harraway got another first down before Kilmer was sacked by defensive tackle Manny Fernandez. Allen sent on kicker Curt Knight to try a 32-yard field goal, but he missed it wide to the right.
The teams exchanged punts. Later, at the 34-yard line, Dolphins head coach Don Shula put the ball in the most reliable of hands: Csonka's. The offensive line created a hole, and Csonka blasted through it for a 50-yard gain. Kiick would then get it down to the 5 for first-and-goal. However, Griese threw a terrible interception to defensive back Brig Owens, who took it for a touchback as the third quarter came to a close.
The Redskins had a chance to get back into it, as they marched on a 13-play drive down the field. They were taking up a lot of time themselves, but Kilmer was getting them into field goal position. He scrambled for a first down, and Brown and Harraway each ran for first downs. The 'Skins got down inside the 10, where they faced third-and-goal. Kilmer tried to force a pass, and Scott zoomed in and picked it off. He returned it to the Washington 48, and it looked like Washington was sunk.
That's when the most famous play of this game occurred. Dolphins kicker Garo Yepremian tried a 42-yard field goal, which would ice the game, and give Miami a 17-0 win as well as a 17-0 season. But his kick was blocked, and then he picked up the ball and tried to throw a pass. NBC color commentator Al DeRogatis laughed as Garo fumbled the ball into the hands of Mike Bass, who returned it 49 yards for a touchdown.
There was just 2:07 left on the clock at this point. Allen chose to kick it deep and hope that his defense could make a stop. After the two-minute warning, Griese found Warfield for a first down, which may have sealed the game had Warfield not stepped out of bounds. Now the Redskins could use all three timeouts to get the ball back, which they did. They couldn't block the punt, and they got the ball back at their own 30.
There wouldn't even be a Hail Mary try, however. Kilmer threw two incompletions, a pass for negative yardage, and ended up being sacked on fourth down. The Dolphins had won it, 14-7, and they were the first undefeated, untied, perfect team in NFL history!
Super Bowl VII Awards and Aftermath
Jake Scott won MVP honors for his two interceptions and long returns, and that makes total sense. However, if I were to give an MVP award, I'd give it to Csonka. He ran for 112 yards on just 15 carries. He pushed and pummeled his way through the line all day long. In addition, his teammates Kiick and Morris didn't do very much on the ground, totaling just 72 yards combined.
The MVP on the losing team? There was no one who played well on the 'Skins. Kilmer threw three interceptions and had a putrid passer rating of 19.6. Brown rushed for only 72 yards on 22 carries and never had a run longer than 11. Jefferson led the receivers with a paltry 50 yards. So, I'll give the award to Brig Owens. He had an interception in the end zone that kept the Redskins in it. He was a big part of the Redskins' success in 1972.
The Least Valuable Player, who was it? This time, I'm giving it to a player on the winning team. Yepremian not only had his only field goal attempt blocked, but he then made one of the stupidest decisions in Super Bowl history, one that put him on Football Follies videos forever. He nearly cost his team the game, while not kicking a successful field goal.
And that is the answer to today's pop quiz. This was the first Super Bowl without a successful field goal. It was also the lowest-scoring Super Bowl ever until Super Bowl LIII between the Patriots and the Rams. That one had only 16 points as opposed to 21 here. The Patriots also broke Miami's record for the least points by a winning team with 13.
Who was the best player in this game you don't remember? How about Larry Seiple, Miami's punter. He kicked it seven times for over 300 yards, averaging 43 yards per kick. That's pretty impressive.
What was the play of the game? It wasn't Garo's Gaffe, even though that one is the most memorable. No, instead, I'm giving it to Scott's interception in the end zone and his long ensuing return in the fourth quarter. That put the game on ice, or it should have, if not for Yepremian.
The biggest play no one remembers is Owens's pick in the end zone to prevent Miami from going up 21-0. If the Dolphins score there, not even Yepremian could throw away the win. That may not have turned the outcome of the game, but it was certainly an important moment that is forgotten.
If you want a player's perspective on the losing team, go with Over the Hill to the Super Bowl, written by Brig Owens and Chuck Cacsio. This one reads like a diary. It's very entertaining.
There's also Undefeated: Inside the Miami Dolphins' Perfect Season, by Mike Freeman. This gives more of a sportswriter's take on the 1972 season, but it is very thorough, like Griese and Hyde's book. Finally, there's But We Were 17 And 0 by Francis J. Lodato and Raymond M. Lodato. It is a collection of interviews with a good portion of the members of the '72 Dolphins. Lots of work for this week!
In two weeks, we find out if the Dolphins can repeat as champions! Or can the Purple People Eaters of Minnesota stop them, and bring the Lombardi Trophy back to the NFC? That's two Tuesdays from now. Until then, so long!
More From Lombardi Memories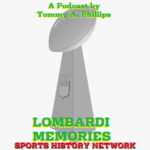 Today we have Super Bowl XVI, which was held on...
Read More