This week I speak to the founder and primary contributor of PAFBHISTORY.COM, a website dedicated to the history of "The Keystone State's Game." Below are some of the topics we dive into:
The origin and the vision of the site/project

Dr. Roger Saylor records & ratings held by PSU

 –> The site's contributor has worked to find additional games prior to his starting point (1885)

History of high school state champions in PA & history of the state playoffs. Began in 1988, a year too late for a potentially historic matchup between North Hills and Central Bucks West

Regional power concentration & regional "flavor" across the state are being preserved by the long delay before a true state-wide championship. Opportunities to find cool history in communities across the state, not just in major cities

Concept of each town/program having its own "microhistory" around HS football which feeds into a larger statewide narrative.

The importance of Earle Mundell, Amber RB from the late 1940s

Harrisburg Tech's dominant teams/national champions from 1915-1923

A "Mt. Rushmore" of great dynasties in state history

School consolidation & the disappearance of former powers (Braddock, John Harris, Blakely, etc.)

Great dynasties in state history

The current project to document every NFL draftee from a PA high school

A shout out to Shayne Schafer for his contributions to the site and PA FB HS history (

here is his Twitter

)
CONTACT PAFBHISTORY.COM
Twitter: PA_FB_HISTORY
Website: PAFBHISTORY.COM 
Brief History From PAFBHistory.com
Pennsylvania, like many other states, has a proud history of high school football. People here can't agree on which gas station makes the best food or the appropriate second-person plural pronoun, so is there any hope we can agree on a football-related topic? Not a chance.
Ask any fan of football in the state to identify his or her favorite player, coach, team, game or achievement and you're likely to get a different answer from each person. This is part of what makes high school football so special – because it's so personal.
I might rationally know that my town's team the year I was in third grade wasn't actually the best team ever to grace a Pennsylvania football field, but you'll never get the emotional side of me to admit that. That game in a rainstorm against our rival where the hometown player I idolized threw four (or was it five? No, six!) touchdown passes is the big fish story that grows with every year.
Some people would say that historical research demystifies these hazy memories; the splash of cold, hard fact doesn't always jive with our rosy recollection. I would argue the opposite, however. The more we delve into the historical record, the more stories we unearth. Every once in a while, we're even lucky enough to find a true story that blows our mythological ones out of the water.
 At Pennsylvania Football History (www.pafbhistory.com), the goal is to find as many of these stories as possible and share them with high school football fans from across the state. From a century-old team whose dominance is difficult to fathom, to a tiny, record-setting running back who faced more on the field than just tackles, to documenting every state champion over a 130+ year period, there are countless stories to tell, athletes to uncover, and teams to remember (or discover in the first place).
Want to find out who has the most receiving yards in state championship game history? Or read about a Pittsburgh native who became the first Black quarterback in NFL history? You'll find it at PFH. You can also catch up with PFH on Twitter. 
The best part is that the stories of Harrisburg Tech, Earle Mundell, Willie Thrower, and many others barely even scratch the surface of the high school game in Pennsylvania. That isn't arrogance; it would be true for any state. There is an impossible amount of historical football knowledge to be found if people commit to searching for it. I promise – it's worth the effort.
Please note – As an Amazon Associate, I earn from qualifying purchases.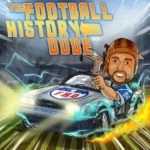 This week I spoke with Michael Mertes about a project...
Read More