If I told you Ken Riley is tied for 5th all-time in NFL interceptions, played as a top defender in the league for 15 seasons, and was a nightmare to the vaunted 1970s version of the Pittsburgh Steelers; you would assume he's in the Pro Football Hall of Fame, right?  I don't want to make a liar out of you, so I'll stop you before you answer that question.
Somehow, Ken Riley is not in the Pro Football Hall of Fame.  That's why I brought his son on the show this week to share the career of his father to help swing the pendulum towards his induction.
You can listen to multiple interviews with Ken Riley II below, and then check out further down the page for your own research to make a decision if you feel Ken should be in the Hall or not.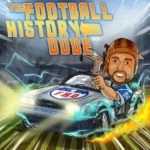 This time I take the DeLorean to many timelines in...
Read More