The era of the Outlaw Oakland Raiders history is legendary.  This team seemed like they had no rules.  Well, there was one rule – "Just Win Baby!"  Then again, part of this era was remembered for John Madden's 3 rules ~ "Be on time, pay attention, and play like hell when I tell you to." 
That's about all you need to know about this team and their fearless leader.  It was "Al Davis vs. the NFL."  More to come on this story in the future.  For now, listen to the episode below and check out the books from this week's guest, Rich Shmelter.  He hops in the DeLorean with The Football History Dude to explore the story of his passion and obsession with the Outlaw Oakland Raiders, all beginning with a play best known for fans of the Pittsburgh Steelers, "The Immaculate Reception."
Listen to the entire interview below and don't forget to check out Rich's many books.  Rich was also kind enough to give us a brief summary of the Outlaw Raiders.  You can read this below, as well.
The Outlaw Image: The Silver and Black Attack
From January 15, 1963, through January 22, 1984, over that course of 4,392 days, from coast to coast, a juggernaut of baleful marauders laid waste to patches of real estate 100 yards at a time.
This is a brief way to describe one of the most dominant two decades ever witnessed throughout the long and stellar history of America's professional sports leagues. The Oakland/Los Angeles Raiders of this time were rough, tough, and had some of the baddest players to ever don a uniform in the National Football League.
To back up this claim, one just has to look at their accomplishments. A 206-82-11 record for a .715 winning percent, which was not only the best in the professional football circuit but the best in all of the other major sports leagues in America. Eleven division crowns, one league championship, three dominant Super Bowl titles in seven years, numerous All-Pro selections, league MVP awards, and 15 players, two head coaches, and a pair of team executives, all have busts gracing the hallowed shrine which is the Professional Football Hall of Fame in Canton, Ohio.
One of those Raider executives enshrined in Canton, Al Davis, was the architect that created and shaped the Raiders' organization, and in doing so, allowed it to rise from the outhouse to the penthouse of professional football. Over those two decades of power, Mr. Davis was called many things, ranging from enigma, genius, maverick, and for certain, many off-color ones as well.
However, loved or despised, Mr. Davis created a feared, powerful football team built on speed, brute force, intimidation, and dominance, and no matter which side of the spectrum one's opinion of this man falls, a single word from any language best sums up what Al Davis was: A WINNER!!!
The Raiders' organization can best be summed up into two time periods. BA and AA.
To say the franchise was abysmal from its birth in 1960 through the 1962 season would be a huge understatement. Three head coaches attempted to guide the Raiders, and all of their tenures ended drastically, as a combined 9-33 record would attest. This was BA: Before Al
  AA: After Al officially began on January 15, 1963, when a bold headline on the first page of the Oakland Tribune sports section read, "Raiders – A Coach, A Shakeup." At the time of his hiring, Davis was a 33-year old top assistant coach and recruiter for the San Diego Chargers under offensive genius Sid Gillman and was regarded highly as one of the most brilliant football minds in the business.
Inheriting a 1-13 team defiantly would test Davis' mettle, but like the Phoenix, the Raiders rose from the ashes and remained steadfast on a quest for greatness that started during the Kennedy administration's "New Frontier", through the first part of President Reagan's time in the Oval Office.
 Armed with a three-year, Davis immediately went to work to make the Raiders at first respectable and then consistent winners. With an incredible supply of physical and mental stamina, Davis began by re-organizing the front office and finding players to fit his coaching philosophies. 
Davis did want any distractions, so he rented a place without windows to serve as the team's new headquarters, and even banned clocks from being hung on the walls. Time of day did not matter to him, and if he had to work 24 hours a day to develop a winner, then that is what would be done. He brought in new assistant coaches with the same passion as his and changed the team colors from black and gold to silver and black. 
The colors selected were to represent a new beginning. The black was to emulate the powerful Army teams of the 1940's known as the "Black Knights of the Hudson, while the silver honored the Detroit Lions, one of the most dominant NFL teams during the 1950s. Davis wanted the men who put on Raider uniforms to be proud that they were a part of greatness, and wanted the rest of the league to fear them and want to be one of them.
Davis not only had to be a good coach but an incredible salesman as well. He was an intelligent and aggressive man and used a tranquil but convincing voice to sell his ideas to not only recruits but also to the public. He instilled a "Commitment to Excellence", which became the organization's ever-lasting motto, and also "Pride and Poise", which meant having a belief in what you are doing, and then doing it with total control and confidence.
With a roster comprised of 19 new players, Al Davis took the Raiders on a drastic turnaround, going from a one-win team to a 10-4 finish in 1963. Mr. Davis was then off on a 20-year reign of greatness unequaled in professional football.
Following the 1965 season, Davis became the American Football League Commissioner, helped to force a merger with the National Football league beginning in 1970, and then returned to the Raiders in 1967. 
However, this arrival in Oakland was not as a head coach, but as an executive, and eventually the team's owner.
Along the way from resurrecting a horrible franchise, serving as league commissioner, and then team owner, Mr. Davis remained focused on continuing to make his beloved Raiders a consistent contender for a Super Bowl berth.
Taking a concept he learned from Sid Gillman in San Diego, Davis looked to have five receivers going out into the secondary to stretch the defense out, and a strong-armed quarterback that could throw deep to any of them. The receiving corps needed blazing speed, the tight ends the ability to catch, running backs had to be capable of going deep for passes, and the offensive line had to be stocked with massive men that possessed quickness and strength to overpower the assault on a quarterback and blow open holes for the backs to run through. 
All these pieces allowed the Raiders the chance to attack a defense on any down from anywhere on the field. An old adage in football was to take what the defense gives you, but Davis' Raiders refused to comply with it. His attitude was to take what we wanted whenever we wanted it and strike fear into a defense that knew the Raiders were going to come at them fast and hard on every play.
On the defensive side of the ball, Davis wanted a scheme that totally dominated an opponent into submission, leaving them battered and desperately wanting to just get off the field. Obviously, Davis knew the Raiders were not going to win every game they played, but he wanted to win enough games to compete for championships and let the opposition know that they were in a slugfest each and every time they played the Raiders.
Attack and fear were added to the team's commitment to excellence and pride and poise, and all those words served as calling cards for the Raiders from 1963 through 1983.
So the plans on both sides of the ball were set, and all that was missing was a collection of badass renegades in cleats to inflict damage over sixty minutes of controlled mayhem game after game, year after year. Obviously, the Raiders accumulated their fair share of stellar talent through the college draft. However, mixed in with those players came others with talent, but maybe not with the best social standing throughout the rest of the professional football fraternity. 
Davis did not care about a player's previous travels, but what he could do for the Raiders.  
The Raiders quickly became a team willing to give opportunities to players that were regarded as outcasts or problems with other teams, and all Davis was concerned with was the player's ability on the field. He gave them a renewed sense of worth, and they played like hell for the Raiders. 
Davis treated all his players like men, allowing each of them the freedom of expression that was frowned upon by other teams. The Raiders had a knack of picking up misfits and malcontents, turning the majority of them into solid performers, and soon the team had the "us against the world", and "to hell with the rest of league" attitude that had the Raiders feared, hated, but respected and envied.  
 During this incredible stretch of two decades, many that passed through the silver and black evil empire earned championship rings, a renewed belief in their self-worth, and left behind a legacy that will remain ominous, as well as beloved. The climax to this incredible run of greatness came in the winning locker room after the Raiders mauled the defending, and almost invincible, Washington Redskins, 38-9, to claim their third Super Bowl championship on January 22, 1984.
In addition to a commitment to excellence, pride and poise, and fear and attack, Al Davis added another bit of everlasting jargon to his team's legacy. While clutching the Lombardi Trophy after Super Bowl XVIII, Mr. Al Davis looked over the room and said, "Just win baby." It consisted of only three little words, but their impact will be a part of the Raiders forever.  
Richard J. Shmelter is a writer/researcher specializing in sports history, American crime during the Prohibition era, and Hollywood history. A member of the International Association of Crime Writers, the American Crime Writers League, and the Professional Football Researchers Association, he resides in Sagamore Hills, Ohio.
All of Mr. Shmelter's encyclopedias are presented in comprehensive fashion, covering every season, statistics (team and individual), all-time greatest players, head coaches, and sections dedicated to team traditions and award winners.
Soon to be released is a project pertaining to the birth and growth of professional football in Los Angeles.
Mr. Shmelter is also currently finishing up a project dealing with drive-in movies from the late 1950s through the early '80s.
In addition to his solo projects, Mr. Shmelter assisted the Professional Football Researchers Association on books dedicated to the 1966 Green Bay Packers, 1958 Baltimore Colts, and the 1951 Los Angeles Rams. He has also appeared on numerous radio and podcast shows.
See Mr. Shmelter's books below.
The Browns: Cleveland's Team. Published in 1999, this book covers the greatest moments in the history of the Cleveland Browns from 1946 to 1999.
The Raiders Encyclopedia: This project covers the first fifty years of one of professional football's most outrageous and highly successful franchises throughout the game's long history.
The Los Angeles Lakers Encyclopedia: Paying tribute to one of the most successful and popular professional sports organizations in the world, this project covers the Lakers' first fifty years in Los Angeles.
It was highly well received by true crime aficionados, gaining sterling reviews from around the world. It found its way into the library at Harvard University and the FBI Academy in Quantico, Virginia. It is also in the library systems of London, England, and throughout New Zealand and Australia.
Please note – As an Amazon Associate, I earn from qualifying purchases.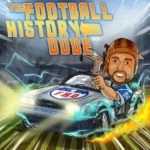 This time I take the DeLorean to many timelines in...
Read More