Today we have Super Bowl XV, which was held on January 25, 1981, between the third-time AFC champion Oakland Raiders, and the first-time NFC champions. Philadelphia Eagles. If you're looking for the full story of this 1980 season, pick up my Great Eighties book and you'll learn more than you ever wanted to know about that year and the rest of the eighties.
As always, we have a pop quiz, and then homework at the end of the episode. The pop quiz question for today is: what individual record in this game still stands today? The answer will come near the end of the podcast.
The Philadelphia Eagles got off to a roaring start in 1980. They won 11 of their first 12 games, beating the Dallas Cowboys once along the way. They then stumbled down the stretch to three losses in their final four games, including a season-ending loss to Dallas that made the Eagles and Cowboys finish with the same record. Philadelphia had the tiebreaker, so the Eagles won the division, and the Cowboys were one of the wild cards.
The Eagles breezed by the Minnesota Vikings 31-16 in the divisional round. For the NFC Championship Game, they'd have to play a "three-match" – the third game against the Cowboys on the season. Using the legs of running back Wilbert Montgomery, the Eagles ran all over Dallas and beat them 20-7 at Veterans Stadium to clinch a spot in the 15th Super Bowl, their first one.
Montgomery ran for 778 yards and eight touchdowns, which weren't entirely impressive numbers, but still very solid. Quarterback Ron Jaworski threw for over 3,500 yards and 27 touchdowns, with just 12 interceptions all season. His most-thrown-to receiver was Montgomery, who had 50 catches. The deep threats came from Harold Carmichael and Charlie Smith, who both went over 800 yards and 45 catches.
The Oakland Raiders, meanwhile, did things the hard way. They lost five regular-season games, including a 10-7 loss to the Eagles in Week 12. The Raiders finished at 11-5, which tied them for the best record in the conference. It wasn't enough to win the division, though, as the 11-5 Chargers held the tiebreaker over them. The Raiders' only way to the Super Bowl was through the wild card game.
The Raiders won easily at home against Houston in the wild card game, before one of the most famous games in NFL history. It was "Red Right 88," the fateful call by the Browns where NFL MVP quarterback Brian Sipe threw an interception in the final minutes of the game when all Cleveland needed was a field goal. The Raiders held on to win, 14-12. They then won a shootout in San Diego to claim their third ticket to the Super Bowl.
Quarterback Dan Pastorini started the season as the starter, but he got hurt, and Jim Plunkett had to come in. He was serviceable, throwing for just shy of 2,300 yards and 18 touchdowns, but also 16 interceptions. The leading Oakland receivers were Bob Chandler with 49 grabs for 786 yards and ten touchdowns, and Cliff Branch, with 44 catches for 858 yards and seven touchdowns. Running backs Mark van Eeghen and Kenny King combined for just short of 1,600 rushing yards and nine touchdowns.
Of course, the biggest storyline with the Raiders was that owner Al Davis was in a fight with the league to move the Raiders to Los Angeles. That decision would go to court, but for now, everyone looked forward to seeing what would happen if the Raiders won the Super Bowl. How would NFL commissioner Pete Rozelle congratulate Davis, should the Raiders win?
Super Bowl XV: First Quarter
Chris Bahr, the brother of Steelers kicker Matt Bahr who played in the previous Super Bowl, kicked off, and Super Bowl XV was underway. On only the third play of the game, Jaworski tried going play action, and he got picked off by linebacker Rod Martin, who returned it to the Philadelphia 30. The Raiders were going to go three-and-out, but an offside penalty on the Eagles kept the drive alive. Van Eeghen ran for a first down on that replayed third down. Plunkett then found Branch down at the 5 for a first-and-goal. After van Eeghen got it down to about the 1, Plunkett scrambled and threw on the run to Branch in the end zone for the game's first touchdown.
The teams traded three-and-outs after that. On the Eagles' third drive, Jaworski hit tight end Keith Krepfle for eight yards and handed off to Montgomery for a first down. Jaworski then fired a screen to Montgomery, who picked up 13 yards. The Eagles soon faced third-and-long, and Jaworski aired it out for receiver Rodney Parker. Touchdown! Except that it wasn't. Carmichael had been in motion toward the line of scrimmage on the play, which is illegal in the NFL. The touchdown got wiped off the board, and the Eagles ended up punting.
King ran it out six yards to the 20, before a record-setting play. Plunkett was given all day to throw, and he used the time to scramble out and throw to King on the run. King had a convoy, and he sprinted to the end zone for an 80-yard touchdown. It was the longest pass in Super Bowl history, and it would remain so through the first thirty Super Bowls. As the first quarter came to an end, the Raiders led it, 14-0.
Super Bowl XV: Second Quarter
The Eagles finally got something going on the first drive of the second quarter. Montgomery started out with an eight-yard run, and Jaworski went play-action and fired to tight end John Spagnola for 22 yards. Jaworski threw a bomb for receiver Charlie Smith in the end zone on the next play, but Oakland defensive back Lester Hayes knocked it away at the last second. That was the second time a Jaws pass could have been a touchdown but wasn't. Jaworski did get the Eagles into field goal range, firing a 24-yard pass to Montgomery. But the Eagles settled for a 30-yard Tony Franklin field goal, and they trailed 14-3.
On the ensuing kickoff, Raiders defensive back Keith Moody fumbled after getting hit by Ron Baker. The ball came loose, but Rod Martin recovered for Oakland. It was a crucial recovery that prevented Philadelphia from getting back into the game. The Raiders didn't score on this possession, but they managed to flip field position on an exchange of punts.
On Oakland's next possession, van Eeghen started by running twice to get a first down, and Plunkett found Branch for a first down at the 36. King ran for four more, and Plunkett scrambled to the 27, but he came up a yard shy on third down. Bahr tried a 45-yard field goal, but his kick was a bit to the right, and a little short as well.
Jaworski threw to Carmichael for a 30-yard gain, and the Eagles got into Raiders territory at the two-minute warning. He'd go to Carmichael again for a first down at the 27, then Montgomery caught one and spun for a first down to the 12. However, the Eagles got nothing out of this end-of-half drive, as Franklin had his 28-yard field goal blocked by Oakland linebacker Ted Hendricks. The Raiders went to the half holding a 14-3 lead.
Super Bowl XV: Third Quarter
The Raiders got the ball to start the second half, and despite a first-down holding flag, they marched right downfield. Plunkett threw to King for 13 yards, then he went long for Bob Chandler for a 32-yard pickup. Van Eeghen ran for four more, then Plunkett went play-action to Branch, who stole away the jump ball from defensive back Roynell Young. Instead of an interception, it was a 29-yard touchdown for Branch, who put the Raiders up 21-3.
Despite the fact that Eagles head coach Dick Vermeil ran a tight ship, his team was making mistakes left and right. First, linebacker John Bunting touched a kickoff before it bounces out of bounds, backing up the Eagles deep in their own territory. Then, Jaworski threw another interception to Martin. This pick would set up Oakland's next score. Plunkett found tight end, Ray Chester, for 16 yards, then he hit Chandler for another first down at the 32. The Raiders got a 46-yard Bahr field goal out of it, and they went to the final quarter leading 24-3.
Super Bowl XV: Fourth Quarter
Jaworski was nearly sacked for a safety on Philadelphia's next drive, but he got the ball away, and Charlie Smith hauled it in for a big gain to the Oakland 45. Montgomery ran for a first down before the Eagles faced a fourth down. They had to go for it, and Jaworski found Rodney Parker to move the chains to the 12. Facing fourth down again, the Eagles got lucky when the Raiders jumped offside. Jaworski then found Krepfle in the back of the end zone for a touchdown, and the Eagles pulled within 24-10.
But Oakland put away the game on their next drive. Van Eeghen ran for eight yards, then he picked up the first down. Plunkett fired to Chester for a nice gain, and a roughing the passer penalty moved the ball further for Oakland. Plunkett nearly threw an interception to defensive back Herman Edwards, but Branch broke it up to force an incompletion. After that near-mistake, Plunkett followed that up by firing to Chandler for 23 yards. The Raiders ended up getting a 35-yard field goal from Bahr, and they led 27-10 with eight-and-a-half minutes to play.
The Eagles' final two chances in the game would end in turnovers. First, Jaworski fumbled a snap in Oakland territory, which defensive end Willie Jones recovered. Then, Jaworski threw a third interception to Martin. That made Martin the first and only player to this date to intercept three passes in a single Super Bowl. The Raiders had won their second Super Bowl, 27-10, and now it was time for Davis to receive the Lombardi Trophy. Surprisingly, Rozelle and Davis had a peaceful transfer of the trophy, which Davis called "our finest hour."
Super Bowl XV: Aftermath and Awards
Plunkett completed 13 of 21 passes for 261 yards and three touchdowns, suffering just one sack. He had a passer rating of 145.0, and he was named Super Bowl MVP. There's little arguing with those stats, but if I were to give the award to someone else, I'd give it to Rod Martin, for his three interceptions. Never before or since has a player picked off three passes, making him the answer to today's pop quiz question. He was an unusual hero for this game, a role player who ended up having his biggest moment in the biggest game of all.
The most valuable player on the losing team was Montgomery. He rushed for 44 yards and caught six passes for 91 yards. He and Carmichael were the only two offensive players to really contribute to the Philadephia cause. The Eagles had a rough day, with Jaworski throwing 38 passes but completing fewer than half of them.
Jaws's passer rating was a putrid 49.3, but I think he gets too much blame for this performance. Instead, I give the Least Valuable Player award to his entire offensive line. NBC made a point to show that Plunkett was getting four-plus seconds to throw, while Jaws had less than two. Jaworski really couldn't do anything playing behind turnstiles.
The best player you've never heard of? Well, that's difficult since the Raiders are such a well-known team. If I were to pick a player who isn't as well-known, I'd go with defensive back Burgess Owens, who played great in the secondary and picked up seven tackles throughout this game. Owens was part of a secondary including Lester Hayes that wouldn't allow Jaws to throw it deep.
The biggest play of this game was, of course, the 80-yard touchdown pass from Plunkett to King. It wasn't designed as a long pass; instead, Plunkett was just hoping to get something out of a somewhat broken play. King ended up making the catch in space and having all the room in the world to sprint down the field for a touchdown. That made it 14-0, and as we know, the Eagles never reached 14 points.
The biggest play of this game that no one remembers? There are a couple. You may think I would pick Carmichael's illegal motion penalty that wiped out a long touchdown pass to Parker. However, I think that you may remember that play, so I'm going with two others. One of them was when Jaworski threw a bomb to Smith in the end zone, but Hayes broke it up at the last second. Philadephia got only a field goal out of it. Then, on the ensuing kickoff, Martin luckily recovered a fumble by Moody to keep the ball with Oakland.
While I believe instant replay would have given back the ball to Oakland had it existed at the time, if the Eagles recover that, it could have been an entirely different game.
I've got an excellent book for you this week to read. It's called Cheating is Encouraged: A Hard-Nosed History of the 1970s Raiders. Yes, I know it says "70s" but there's a bunch in there on the 1980 team going through Super Bowl XV. In fact, that's the ultimate chapter of the book that brings the rest of the book together. Obviously, the seventies were a great decade for the Raiders, but the eighties were when they had their most Super Bowl success. We will find out more about them in a couple of months.
As for now, we will move on to a different dynasty. It's the San Francisco 49ers, who will go to their first Super Bowl against another team in their first big game, the Cincinnati Bengals. Which of these worst-to-first teams will come out on top? Which one will become a dynasty, and which one will remain snakebitten? It all comes in two weeks when we get to Super Bowl XVI.
Lombardi Memories is a show that takes you back in time, into January or February, to the greatest one-day spectacle in all of sports. This is the every-other-Tuesday podcast that looks back at each and every one of the 50-plus Super Bowls and tells the story of who won and why.  Tommy A. Phillips is your host on this Super Journey.  He's an author of multiple NFL books.  You can purchase below.
Books From The Host Of Lombardi Memories
Please Note – As an Amazon Associate, I earn from qualifying purchases
More From Lombardi Memories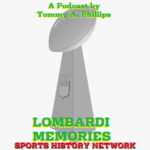 Today we have Super Bowl XVI, which was held on...
Read More