Today we have Super Bowl XXXVII, which was held on January 26, 2003, in the final Super Bowl in San Diego, at Qualcomm Stadium, between the four-time AFC champion Oakland Raiders and the first-time NFC champion Tampa Bay Buccaneers.
As always, we have a pop quiz, and then homework at the end of the episode.
Dexter Jackson won Super Bowl XXXVII MVP.
Who are the only other two defensive backs to be named Super Bowl MVP besides him? The answer will come at the end of the podcast.
If you follow the Super Bowl closely, you must be a huge NFL fan.
During the most exciting time of the Super Bowl, many fans show their support and fashion in a variety of ways. Wearing custom pins with exclusive team elements or engraved supportive messages is becoming increasingly popular among them.
If you also would like to turn your favorite players' or teams' name or logo into a pin, or a pin on your hat or shirts to cheer them on, you can complete your customization at GS-JJ, which offers a free design system.
Please note – this is a sponsored link.
Prelude to Super Bowl XXXVII
The Tampa Bay Buccaneers were known as losers for the first 20 years of their existence. John McKay and the Bucs went 0-26 before winning their first game in franchise history. While they made it to the playoffs three times in four years in the late seventies and early eighties, they were awful for the next decade.
That's when Tony Dungy stepped in. He was named head coach in 1996, and within two seasons he had them in the playoffs. But after repeated failed trips to the playoffs, he was let go, and the Buccaneers went all out to get Raiders head coach Jon Gruden to replace him. They sent money and traded early-round draft picks to Oakland to pilfer Gruden over to their team. Now it was Super Bowl or bust.
The Bucs won five of their first six games and nine out of their first 11. Quarterback Brad Johnson got injured near the end of the season, and the Bucs lost an ugly Monday Night Football game to Pittsburgh with him out. But the 12-4 Bucs were gifted a first-round bye when Green Bay lost its final game to the Jets and fell all the way from #1 to #3. Johnson used the bye to get healthy. The Bucs then easily won both playoff games, 31-6 over San Francisco in the divisional round, and 27-10 in Philadelphia over the Eagles to advance to their first Super Bowl in franchise history.
Johnson threw for over 3,000 yards and 22 touchdowns with just six interceptions. His top receiver was Keyshawn Johnson, who caught 76 passes for over 1,000 yards and five touchdowns. The Bucs also had former Jaguars receiver Keenan McCardell, who caught 61 for 670 yards and six touchdowns.
Michael Pittman stepped into the starting running back role when Warrick Dunn moved on to Atlanta. He ran for over 700 yards. Fullback Mike Alstott was still with the Bucs, and he ran for over 500 yards, caught 35 passes, and scored seven times. The Bucs also had the #1 defense in the NFL, with defensive end Simeon Rice picking up 15.5 sacks, and defensive tackle Warren Sapp getting another 7.5. Defensive back Brian Kelly led the team with eight interceptions.
The Oakland Raiders had a bizarre 2002 season. They started the season with four straight wins, scoring at least 30 points in all four. Then they lost four in a row, including overtime losses to both other California teams (Chargers and 49ers). They followed that up by winning five in a row and seven out of eight, to claim the #1 seed in the AFC at 11-5.
The Raiders easily dispatched of both playoff opponents. They beat the Jets 30-10, then crushed the Titans 41-24 to advance to their first Super Bowl since 1983. The Raiders had never lost a Super Bowl before; they won Super Bowls XI, XV, and XVIII.
Oakland had the #1 offense in the NFL. Quarterback Rich Gannon threw for 4,689 yards and 26 touchdowns and ten interceptions. His top receiver? None other than 49er legend Jerry Rice, who had 92 catches for over 1,200 yards and seven touchdowns.
Receiver Jerry Porter led the team with nine receiving touchdowns, going for 688 yards. Running back Charlie Garner put up over 900 yards both rushing and receiving and scored 11 times. Receiver Tim Brown also was over 900 receiving yards. This offense was stacked and loaded, and they had future Hall of Fame defensive backs Rod Woodson and Charles Woodson on the other side of the ball. It was easy to see why they were named four-point favorites.
But the day before the Super Bowl, Raiders starting center Barret Robbins went missing. It turned out that he didn't take his medication, and he had a manic episode where he was out partying on Super Bowl Saturday. He was in no mental state to play, so Raiders head coach Bill Callahan benched him, and Adam Treu stepped in for him.
Super Bowl XXXVII: First Quarter
The Bucs won the coin toss and ran it twice. Brad Johnson then got hit by defensive end Regan Upshaw, and his pass floated to Charles Woodson for the interception. He returned the pick to the Tampa Bay 36. Gannon threw to Garner for eight yards, then he hit Brown for a first down at the 20. Simeon Rice picked up a third-down sack of Gannon, though, so the Raiders settled for a 40-yard Sebastian Janikowski field goal to make it 3-0.
On the kickoff return, running back Aaron Stecker lost the ball as he hit the ground. The officials erroneously called it a fumble on the field. Gruden challenged and won the ball back for his team, but now he was down to just one challenge. This is why it's such a good thing that the NFL now automatically reviews touchdowns and turnovers.
Johnson threw to receiver Joe Jurevicius for a first down at the 40. After a couple of incompletions, the Bucs got back-to-back 23-yard gains, on a pass to Jurevicius and a toss back to Pittman. That set up a 31-yard field goal by kicker Martin Gramatica, and the Buccaneers tied the game at three apiece.
The Raiders went three-and-out, with defensive end Greg Spires ending their possession with a sack. The Bucs followed with a three-and-out of their own. This was part of a frustrating first quarter for both teams. The Raiders went three-and-out a second time, and the Bucs got just one first down on a slant pass to Keyshawn Johnson before punting. At the end of the first quarter, Gannon threw an interception to defensive back Dexter Jackson, who returned the pick to midfield.
Super Bowl XXXVII: Second Quarter
To start the second quarter, Brad Johnson threw a pass to Keyshawn Johnson for a first down past the 30. Alstott further moved the ball down to the 22, but then he got tackled for a loss by linebacker Bill Romanowski. The Bucs settled for a 43-yard Gramatica field goal, though, so their lead was just 6-3.
Gannon threw to Porter for nine yards, and Garner picked up the first down, which was only the second first down of the game for Oakland. Gannon then threw another interception to Jackson, who returned this one to the Oakland 45. The Bucs now had field position. While they couldn't get a first down, punter Tom Tupa put this one down at the 11.
Then the Raiders went three-and-out, with Simeon Rice picking up another sack. The Raiders punted, and receiver Karl Williams returned the punt to the Oakland 27.
Pittman started the new drive with a six-yard run, before blasting all the way down to the 3. Alstott pounded it twice from there and scored the opening touchdown of the game from about a yard out. It took until 6:24 to go in the second quarter, but a team had finally crossed the goal line, and the Bucs took a 13-3 lead.
The Raiders at this point had just 39 total yards in six drives. They picked up some more on a Gannon pass to Porter for a first down, but the Raiders soon had to punt once again. Tampa Bay took over at their own 23. Pittman blasted for five yards, and the Bucs got a first down on an offside penalty.
Pittman then went through a big hole to get close to the first down. Alstott picked it up on a catch on which he got to the Oakland 43. After the two-minute warning, the Raiders got called for two more penalties, offside and illegal use of hands. Johnson then threw to Keyshawn to get close to the first down, which Alstott picked up on a run. Johnson then went to Alstott on a pass to get down to the 5. On the very next play, Johnson went back shoulder to McCardell on the right side for a touchdown. With 30 seconds left in the half, the Bucs led 20-3.
The Raiders tried throwing on first down, but when Gannon was hit to force an incompletion, they thought better of it and just ran the ball twice. The Bucs had only one timeout remaining, which they used, but they didn't have enough to force a punt. They went to the half up by 17.
Super Bowl XXXVII: Third Quarter
The Bucs started the second half by forcing a three-and-out, and following with a long drive. Johnson scrambled for a gain of 10, before throwing to Keyshawn Johnson for a first down at the 40. Next it was Jurevicius catching a third-down pass to move the chains. Johnson then went back to Jurevicius for a first down at the 14. Next, Johnson fired to tight end Ken Dilger on a play action pass to get down to the 1. After a penalty set the Bucs back, Johnson threw to McCardell for his second touchdown of the game, an eight-yarder that made it 27-3.
Tampa wasted no time in scoring again. On the second play of the Raiders' next drive, defensive back Dwight Smith picked off a Gannon pass and went 44 yards to the house. Now it was 34-3, and the game looked to be over.
The Raiders weren't out of it, though. Even after a sack by defensive end Ellis Wyms that set them back to start the drive, they managed to mount a charge. Gannon fired to tight end Doug Jolley over the middle for a first down at the 43. The Bucs got called for pass interference on a third-down play, even though the ball was tipped; there was no explanation for why that happened.
On the next third down, Gannon threw to the back of the end zone, and Porter hauled it in on the end line for what was ruled an incompletion. Callahan threw the challenge flag, and it was overturned. It was ruled a touchdown despite looking like he bobbled the ball as he stepped out of bounds. Callahan must have figured the Raiders had no chance, so he cavalierly went for two. Simeon Rice sacked Gannon, and the score remained at 34-9.
Super Bowl XXXVII: Fourth Quarter
Oakland forced a Tampa punt to start the fourth quarter. Linebacker Tim Johnson rushed in and blocked Tupa's punt, and defensive back Eric Johnson picked it up and dived into the end zone for a touchdown. Suddenly it was 34-15. But again, Callahan weirdly decided to go for two, and Gannon's pass went out of the end zone and incomplete.
The Bucs had the chance to end the game on the next drive. Johnson threw to Keyshawn for a first down, and then the Bucs drew a 16-yard pass interference penalty on Charles Woodson. Pittman ran for a first down at the 11, setting up a short field goal attempt by Gramatica. But Gramatica never got a chance to kick. Tupa flubbed the hold, and the ball ended up in the hands of Gramatica. He did not pull a Garo Yepremian, simply going down for a loss and not attempting to throw.
Gannon started the new drive with a nine-yard pass to Jolley. Running back Tyrone Wheatley then caught a screen for a first down to the 38. Gannon converted a third down with a pass to Jolley at the 46, and a sidearm throw to Garner got the Raiders to the Bucs 48. That's when Jerry Rice, the famous San Francisco receiver, caught a deep ball for a touchdown.
The Raiders should have had the two-point conversion too, as Porter caught the pass but was forced out of bounds by defenders. According to the rules at the time, he should have been ruled in, but instead he was not given the points. That made it just 34-21, when the Raiders could have made it 34-24 if they had just kicked all three extra points.
The Bucs ran down the clock with runs by Pittman. Alstott caught a third-down play-action pass for a first down, and the Bucs took off a ton of time. They had to punt, but this time Tupa got the punt away, and the Raiders took over at their own 27. Gannon threw to Rice for a first down, before getting tackled at the 38 at the two-minute warning.
This Super Bowl had a laughable ending. The Raiders had no timeouts, but they at least had the chance to come back if they could somehow recover an onside kick and score twice. As it turned out, Gannon did throw two touchdown passes. They were just both to the wrong team. First, linebacker Derrick Brooks took one back for a touchdown, then Dwight Smith got a second pick-six.
When defensive end Chris Cooper picked up the final kickoff, he thankfully ran out the final couple of seconds, so Gannon couldn't throw another pick-six. After all that, the Buccaneers had won their first Super Bowl, 48-21!
Super Bowl XXXVII: Aftermath and Awards
Dexter Jackson was named game MVP for his two first-half interceptions, joining Miami's Jake Scott in Super Bowl VII and Dallas's Larry Brown in Super Bowl XXX as the only defensive backs to win Super Bowl MVP. If I were to give out my own MVP, I'd go with Pittman.
He rushed for 124 yards on 29 carries, and he really set the tone of the game in that first half. He had one of the biggest first halves rushing in Super Bowl history. Even though he didn't score, he was a big part of the Bucs' first-half dominance.
For Least Valuable Player, that's easy. It goes to Rich Gannon. He threw five interceptions, a Super Bowl record. Those include three pick-sixes. He contributed more to the Buccaneers' cause than to his own team's cause. He may have been MVP during the regular season, but he was the LVP in the Super Bowl.
Best player you don't remember? How about Joe Jurevicius? He caught four passes for 78 yards, with his longest going for 33 yards. He definitely played a big role in the Bucs' offensive success.
The best play of this game is hard to say, because in a blowout like this, it's hard to point out a single play. But I'll go with Dexter Jackson's second interception. That one set up the Bucs with great field position, which they eventually converted on to score a touchdown after an exchange of punts.
The biggest play you don't remember is the 16-yard pass interference call on Charles Woodson on a third down. It seemed that the ball was uncatchable, and if that was the case, the Raiders should have gotten the ball back on a punt. Instead, the Bucs kept it alive, and eventually couldn't make a field goal but were able to eat off a lot more time.
If Woodson doesn't get called for that, do the Raiders have more time to make this one at least a little closer? It looked like a bad call to me. In the end, it didn't matter much, but it could have.
Best player on the losing team? Easy one here: Jerry Rice. While the Raiders ran for just 19 total yards in this game, Rice had five catches for 77 yards and that 48-yard touchdown. He may not have been his San Francisco self, but he was still outstanding. He played a great second half after being kept off the scoresheet for the first half.
For this week's homework, I'm going with a book on a member of the losing team. It's written by linebacker Bill Romanowski, with Adam Schefter and Phil Towle. It's called Romo: My Life on the Edge: Living Dreams and Slaying Dragons.
 In this book, Romanowski reveals exactly how painful physically that 2002 season was for him. It's a fascinating read, from a guy who came up short of winning his fifth Super Bowl after winning two with San Francisco and two with Denver.
Next time, we will have a dynasty on our hands. The New England Patriots are back in the big game, trying for their second Super Bowl win in three seasons. Their opponents? Another first-time Super Bowl team from the NFC South, this time the Carolina Panthers. And what a game it was!
My website is tommyaphillips.com, and also niftynineties.com, greateighties.com, and sweetseventies.com. All of those domains lead to my site where you can buy all of my books. There's a couple of books on the way, too! Until next time, this is Tommy A. Phillips signing off. So long!
Lombardi Memories is a show that takes you back in time, into January or February, to the greatest one-day spectacle in all of sports. This is the every-other-Tuesday podcast that looks back at each and every one of the 50-plus Super Bowls and tells the story of who won and why.  Tommy A. Phillips is your host on this Super Journey.  He's an author of multiple NFL books.  You can purchase below.
Books From The Host Of Lombardi Memories
Please Note – As an Amazon Associate, I earn from qualifying purchases
More From Lombardi Memories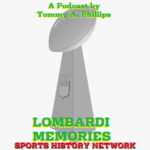 Today we have Super Bowl XLIX, held on February 1,...
Read More