Ever wonder what Hall of Fame voting for the NFL is like?  What goes on in the room that ultimately changes the lives for a handful of legends each year?  This week's guest has been a voter for the Pro Football Hall of Fame for quite some time now.  He's also a founding member of the Talk of Fame Network.  You'll find out about this and much more in this week's episode covering Clark Judge and his career.
Part 1 - Clark Judge Interview
Part 2 - Clark Judge Interview
CLARK JUDGE

Clark Judge is an award-winning writer who covered the Colts, Chargers and 49ers before joining FoxSports.com and CBSSports.com as an NFL columnist. He is a Pro Football Hall-of-Fame voter who serves on the nine-member contributor sub-committee and who, in addition to his work with the Talk of Fame Network, contributes to headcoachranking.com. Clark has also chaired the Pro Football Writers scholarship committee the past 31 years, believes in all things Unitas and Brady, misses Candlestick and the Outdoor Insane Asylum and worships at the altar of Todd Rundgren (Todd is Godd) … with 79 concerts (and counting) on the resume.
Note – this excerpt is taken from the Talk of Fame site on Sports Illustrated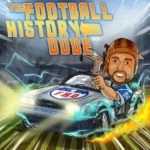 This week I spoke with Michael Mertes about a project...
Read More