When you first heard about the Pro Football Hall of Fame Centennial Class, did you know the name, Duke Slater?  If you did not, you were not alone.  He is a long-forgotten name in the annals of football glory.  Many referred to him as one of the greatest football players of all time, or the greatest tackle of the first half of the 20th century, so why did we have to wait until a special Centennial Class in 2020 to get this guy rightfully inducted to the Hall of Fame? 
One potential reason for this was the color of his skin.  Duke was one of the only African-American players in the league when his career started when the NFL was only a toddler on October 1, 1922, against the famous Curly Lambeau-led Green Bay Packers.  Duke's team?  The Rock Island Independents. 
This week's guest, Neal Rozendaal, calls Duke Slater the greatest African-American player of the first half of the twentieth century.  Neal authored the Duke Slater biography that covered his life well beyond his football-playing days.  You can listen to the interview right through this page or your favorite podcast player.  If you wish to read a brief summary of what you will find in the book and interview, you can CLICK HERE to go to that portion on the page.
This photo comes courtesy of RockIslandIndependents.com.  It was drawn by the late Bob Carroll.  I felt it significant to include this drawing on this episode, because Bob was one of the founders of the Pro Football Researcher's Association, and I feel like he had at least a little part in helping Duke Slater get inducted to the Hall of Fame.  You can see the tribute to Bob on the PFRA site here.
Interviews With Neal Rozendaal
Duke Slater's Origin Story
Duke Slater was not born with this name.  He was given the name Frederick Wayman Slater and he was born on December 9, 1898, in Normal, Illinois.  In the intro to the episode, I describe how this story, nor the man, is normal.  Slater was an African-American.
Juneteenth is a day remembered for June 19, 1865, when a  group of Union soldiers led by Major General Gordon Granger landed in Galveston, TX to inform the enslaved they were free.  When we line up this date with the time Duke was born, only 34 years had passed.  Slater would not be able to escape this fact for the rest of his life.
He was the oldest of six children born to George and Letha Slater.  The way he ended up getting the nickname "Duke" was from a childhood dog.  As a youngster, Duke grew up in the South Side of Chicago, a place known to be rough.  This is where he learned how to play football.  Something of note about Duke was he seemed more interested in tackling than carrying the football, something you don't always see from young children. 
His football days were almost stopped in their tracks when he announced he would try out for the team at Clinton High School.  Duke's father was a nationally recognized African-American minister in Clinton, Iowa.  The Pastor was not interested in seeing his 13 year old play football and get hurt.  So, his Freshman football season was a wash.
The sophomore season had a different twist of fate, though.  Duke secretly joined the team against his father's command.  Things were going alright for Duke until his father found his mother sewing up his torn up football uniform.  Once again, Duke was "sent to the bench" of football life.  He decided to show his passion for the game by going on a hunger strike in protest. 
Duke ultimately won over his father's approval, and the football campaign was back on, under one stipulation.  His father told him if he got hurt, then he wouldn't be able to play anymore.  Ironically, because Duke was used to hiding injuries from his father, he wound up creating a "Superman Aura" of someone that was "Invincible" on the field.  I'm sure this played into the lore of Duke.
Duke Slater's College Days
Slater played at the University of Iowa starting in 1918.  That's Duke on the right chasing down the ball carrier during a game as a Hawkeye.  You'll notice he's not wearing a helmet.  The story goes that as a kid, his family was very poor, and they could either a helmet or cleats.  Not both.  He chose the cleats.
Coach Howard Jones at Iowa helped Slater become one of the greatest linemen to step foot on the gridiron.  Duke had a great Freshman campaign, being elected to the all-Iowa team by the Des Moines Register.  
Then he stepped up as the true star he would become in his Sophomore campaign (1919).  In this year he won unanimous first Team All-Big Ten honors and second team All-American honors.  This marked the first time Iowa had a black All-American player, and in the history of college football, he was only the sixth African-American to earn the honors of All-American.
This is a photo of Duke Slater in a linemen pose when he played for the Hawkeyes.  After a successful Freshman and Sophomore year, Duke had again took home All-Big Ten first team honors as a Junior in 1920.  Then we jump to his Senior year in 1921, the year he put his biggest stamp on the College football world on what Neal calls arguably the greatest team in Iowa history, and Duke was a cog in the machine.
In the photo, you can see Duke at the bottom of the pile leading with a block.  The game is against the famous Knute Rockne Notre Dame Fighting Irish.  This game was one of the most significant in Iowa football history, and Duke was right there helping the team defeat Notre Dame in the midst of a 20-game winning streak.  Again, he earned All-American honors and solidified himself as one of the greatest players in early College football history, and was inducted into the inaugural College Football Hall of Fame class of 1951.
What Duke Slater did for the league and football went beyond the field.  In the toddler years of the NFL, Duke was one of the few black players on a team.  He also happened to be one of the best players in the league.  Period. 
He debuted for the Rock Island Independents on October 1, 1922 with ferocity, and he did not turn back.  The Curly Lambeau led Green Bay Packers didn't know what hit them that day, nor was the league ready for the fury Duke Slater was about to unleash upon it.  Then again, fury would not be a good word to use for Duke Slater.  You could argue he could have been furious, dealing with way more than the average NFL player had to overcome during those days. However, in the interview with Neal, we learn how he remained a calming force throughout his playing days and his career after the NFL.
When it was all said and done, Duke played on three NFL teams.  Well, really you might as well have said only two teams, because his super brief stint with the Milwaukee Badgers (only 2 games) was almost just a warm-up for his time with the Rock Island Independents.  Duke played for the Rock Island team from 1922 to 1925 as the most decorated player on the team.
After a one-year stint in the rival AFL with Rock Island, Duke joined up with the Chicago Cardinals to finish out his career from 1926 to 1931.
If you're interested in Chicago Cardinal and early Chicago football history, you may want to check out one of our partners on the network – When Football Was Football.  You can listen to the trailer below.
Duke's NFL Career Highlights
African-American pioneer when the NFL was in the early days
Played a total of 10 seasons a 2-way lineman
During the era he played, he was the longest tenured African-American
All-NFL four times (1923, 1925, 1926, 1929)
Second Team All-NFL many times – 7 out of 10 seasons
Blocked for Ernie Nevers during the Thanksgiving game 1929 where he broke the record (still a record) of 40 points scored in a single game
Duke held many roles as an advocate for pioneering for social justice for African-Americans.  He served as a Head Coach of the Chicago Negro All-Stars in 1933, the Chicago Bombers in 1937, the Chicago Comets in 1939, and the Chicago Panthers in 1940.
Beyond coaching, Duke played a pivotal role helping the Iowa athletic department.  Then, his biggest accomplishment, he was elected in 1948 to the Cook County Municipal Court as a judge.  At the time, Duke was just the second African-American to be elected judge for the city of Chicago.
Duke passed away on August 14, 1966 at the age of 67.  I hope this article and the interview with Neal Rozendaal helps you understand how important Duke Slater was to the early days of pro football, to the City of Chicago, and as a human being on this planet.
Most of the information from this article was derived from Neal's website.  He has a much more in depth article covering a brief overview of Duke Slater's life if you wish to check it out here.
NEAL ROZENDAAL

Neal is the author of multiple sports history books, all revolving somehow around the Iowa Hawkeyes.  The reason for this is he is a University of Iowa alum.  While there, he grew fascinated with Iowa sports.  We bring Neal on the podcast to share the story of his Duke Slater book.
Neal also has a website, with a blog covering more information beyond his books that I suggest you take a look at. 
Note – As an Amazon associate I earn from qualifying purchases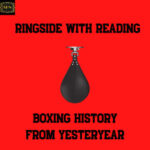 In this segment, I am going to focus on Boxer...
Read More