Today we have Super Bowl XVII, which was held on January 30, 1983, at the Rose Bowl, between the AFC champion Miami Dolphins and the NFC champion Washington Redskins.
If you're looking for the full story of this 1982 season, pick up my Great Eighties book and you'll learn more than you ever wanted to know about that year and the rest of the eighties.
As always, we have a pop quiz, and then homework at the end of the episode. The pop quiz question for today goes like this. In Super Bowl XVI, we had two first-time Super Bowl teams collide with each other, meaning one of them had to win in their first appearance.
The pop quiz question for today is, how many teams have won the Super Bowl and finished with just one loss? The answer will come at the end of the podcast.
Prelude to Super Bowl XVII
1982 is remembered for one thing: the strike. The players went on strike after the second game of the season, and seven games ended up being canceled. Everyone played just nine games this season. Getting into the reasons behind the strike is far too complicated for this podcast, but suffice it to say that this is not your ordinary NFL season. This is not the season where replacement players were used; that season comes five years from here.
The Washington Redskins went 8-1 and finished first in the NFC. This year, there were no divisions; the top eight in each conference made it to the playoffs regardless of where they played. Head coach Joe Gibbs and the Redskins lost only one game to the Dallas Cowboys 24-10 at "midseason." I say "midseason" with air quotes since it was scheduled to be late in the season. The Redskins gave up more than 17 points just twice this season, in that loss to Dallas and in a 37-34 overtime win over Philadelphia to start the season.
Otherwise, they were completely and utterly dominant all year long. The Redskins rolled past Detroit 31-7, Minnesota 21-7, and hated rival Dallas 31-17 to reach Super Bowl XVII.
Quarterback Joe Theismann had a brilliant year, passing for over 2,000 yards in only nine games. He threw for 13 touchdowns and nine interceptions. Running back John Riggins – the "Diesel" – rushed for 553 yards and three touchdowns. That wasn't so impressive, but what was impressive was his playoff performance, where he rushed for over 100 yards in all three NFC playoff games. Catching the ball was the "Fun Bunch."
These receivers had a patented celebration where they all jumped into the air together and gave high fives. They were led by Art Monk – 35 catches for 447 yards, and Charlie Brown, 32 catches for 690 yards and eight of the team's 13 touchdowns. In fact, Brown was the only player to catch more than one touchdown pass in the 1982 regular season.
On defense, you had players such as defensive end Dexter Manley and defensive lineman Tony McGee, who each had six-and-a-half sacks. Defensive backs Vernon Dean and Jeris White led the team with three interceptions each. But the Redskins' star player was their kicker, Mark Moseley.
He made 20 of 21 field-goal attempts and 16 of 19 extra-point attempts. He was actually named NFL MVP. Really. That isn't a joke, that's actually what happened. He is the only kicker to be named MVP, and for good reason. Moseley had an up-and-down postseason, making his selection as MVP to be rather suspect.
The Miami Dolphins had a similarly easy season like the Redskins. Led by head coach Don Shula, they won seven of nine games to finish second in the AFC. Amongst those games was the infamous "Snowplow Game" in New England. The game was scoreless in the fourth quarter until a person drove the snowplow out in order to clear out a spot for the game-winning New England kick. If you want to learn more about this game, please pick up my book Great Eighties at greateighties.com and you can find out the whole story of this game.
The Dolphins got revenge against the Patriots in the first round of the playoffs, beating them 28-13. They then crushed the Chargers 34-13 and got past the Jets 14-0 in the mud. Like the Redskins, all three playoff games were at home, even though Miami was only the #2 seed; the Jets knocked out the #1 Raiders for Miami.
Miami didn't have much of a passing game. They were led by quarterbacks David Woodley and Don Strock, who between them combined for just under 1,400 yards and only seven touchdowns, as opposed to 13 interceptions. Miami was a run-first team, counting on running back Andra Franklin to rush for 701 yards and seven touchdowns. No player on the Miami roster had even 25 catches in 1982.
The strength of the Dolphins was in their defense – the "Killer B's" as they were called since so many of their players' names started with the letter B. These included defensive backs Glenn Blackwood and Lyle Blackwood, linebacker Bob Brudzinski, defensive ends Doug Betters and Kim Bokamper, and defensive tackle Bob Baumhower.
Altogether those "Killer B" players combined for 18-and-a-half sacks and six interceptions, and that's not even including defensive back Don McNeal's team-leading four interceptions. It would be Washington's high-powered offense going up against Miami's stout defense at the Rose Bowl.
Super Bowl XVII: First Quarter
The game started with a bit of confusion. Miami called tails, and it came up tails, but referee Jerry Markbreit thought it came up heads. After some discussion, the Dolphins won the toss and got to receive. They started the game with a three-and-out, with Woodley's first pass nearly getting picked off by defensive back Mark Murphy.
The Redskins got the ball at their own 28 after the punt. Riggins ran it three times in a row, getting a first down. Theismann then threw a screen to Brown, and he picked up 12 yards on the left side of the field. Miami managed to get off the field after linebacker Earnest Rhone picked up a sack of Theismann, and Washington kicked it for a touchback.

Running back Tony Nathan started out the new Miami drive with a four-yard run. Woodley then looked down the right sideline for a wide-open Jimmy Cefalo. With a mix-up in the Washington secondary, Cefalo ended up going all the way for a 76-yard touchdown. It was the second-longest pass in Super Bowl history at the time, behind only Jim Plunkett to Kenny King in Super Bowl XV. Kicker Uwe von Schamann kicked the extra point, and Miami led 7-0.
Washington went three-and-out, and Miami got it back at their 37. Nathan ran for 13 yards, and Franklin pounded it twice for another first down into Washington territory. But that's when Manley burst in and knocked the ball out from Woodley, and defensive tackle Dave Butz recovered for the Redskins. Washington then went for a flea flicker, but Theismann threw incomplete. The Redskins did manage to get the ball in field goal range, though.
Running back Clarence Harmon ran for seven yards, and Theismann hit tight end Don Warren for a first down at the Miami 35. Riggins ran it twice for seven yards each. After a couple more short runs, Riggins was stopped on a third down, and the Redskins settled for a 31-yard Moseley field goal to start the second quarter off down 7-3.
Super Bowl XVII: Second Quarter
Miami defensive back Fulton Walker returned the ensuing kickoff 42 yards. Nathan took a couple of carries, one for eight yards and another one up the middle for a first down. Woodley then completed to receiver Duriel Harris for another eight yards. After Franklin picked up the first down, Woodley found Cefalo again for about six yards. Another pass to Harris got the Dolphins inside the red zone. Franklin picked up another first down at the 8 a few plays later, but the Miami drive died inside the 5. Von Schamann came on and kicked a 21-yard field goal to push the Dolphins' advantage to 10-3.
Theismann started the next Redskin drive out with a 25-yard pass to tight end Rick Walker. Riggins ran for the next first down, before hauling in a throwback for 14 yards. Riggins then looked like he was going to pass, but he chose not to throw and instead ran for no gain. Theismann scrambled for the Redskins' next first down at the 13. Riggins ran it twice to get to about the 5, whereupon Theismann hit receiver Alvin Garrett in the right side of the end zone. Touchdown, Washington Redskins! Moseley's kick tied it at ten.
However, the tie score would be extremely short-lived. Fulton Walker caught the ensuing kickoff at his own 2, cut over to the left side, then sprinted down the left sideline 98 yards for a touchdown. Von Schamann added the point after, and Miami went back in front by seven.
The Redskins needed to get something going before the half. But after a couple of runs went nowhere, Shula called a pair of timeouts to try to get the ball back. On third down, Theismann managed to scramble for the first down at the 24. That made Gibbs want to now go for points. Theismann threw to Warren for a short gain, then went with a long ball that drew a pass interference flag at the 42. He then escaped pressure and found Brown for a first down at the Miami 16. Timeout, Washington, their final one.
14 seconds left on the clock. What to do? Anything but what the Redskins did. Theismann had time to throw, and he completed it to Garrett, but in bounds. The clock ran out, and Washington got zero points out of it. 17-10 Miami at halftime.
Super Bowl XVII: Third Quarter
Washington went three-and-out to start the second half, with Theismann getting sacked by Baumhower on the second-down play. Miami took over, and Franklin ran for about nine yards. Woodley picked up the first down on a third-down quarterback sneak. Woodley then had two long passes almost go for big gains, but neither was hauled in.
The first went to Harris, and he juggled it before coming down out of bounds. The second, for tight end Joe Rose would have been a touchdown if it was on target. Instead, it was off target, and Miami had to punt.
Theismann started the next drive with a seven-yard pass to Warren. Riggins plowed up the middle for a first down at the 47. Garrett then took a reverse to his left, and he went 44 yards down inside the Miami 10. Theismann threw to Warren to get down to the 3, but his third-down pass for Garrett fell incomplete. Moseley came on to try a 20-yard field goal, which he converted to cut the deficit to four points.
The next three possessions were three-and-outs without much going on. When Washington got the ball back, Theismann threw an interception to linebacker A.J. Duhe, who had been the hero of the AFC Championship Game with three picks. Woodley then returned the favor, throwing long for Cefalo but getting picked off by defensive back Mark Murphy at the 5.
Riggins ran for nine yards, before picking up the first down up the middle on his next carry. Then came one of the biggest plays that few people remember. Theismann threw a pass that was batted high into the air, and it fell right into Bokamper's arms for what would be a touchdown.
However, Theismann got his arms in and knocked the ball out from Bokamper, turning a pick-six into an incomplete pass. At the end of the quarter, the Redskins trailed 17-13, but it would have been 24-13 if not for Theismann's heroic play.
Super Bowl XVII: Fourth Quarter
Theismann did throw an interception later in the drive, but this time it worked out like a short punt. Lyle Blackwood hauled it in at the Miami 1. That meant that when the Dolphins' offense malfunctioned once again, the Redskins got the ball with good field position. Riggins ran it twice, getting over 100 yards for the day, and Harmon took a third-down carry to get within a yard of the first down.
That's when the most famous fourth-and-one play in Super Bowl history took place. Shula called timeout to talk it over, but it did no good. Gibbs defeated Shula in the battle of wits. Gibbs ran tight end, Clint Didier, out in motion, causing defensive back Don McNeal to slip. By the time he got back into position, Riggins took the handoff and ran right over him to break into the open field. Soon, Riggins was 43 yards into the end zone. Touchdown, Washington Redskins! The 'Skins took a 20-17 lead.
The Dolphins went three-and-out, and little did they know that they'd never get another chance. Using punishing blows from Riggins, the Redskins slowly moved down the field. Riggins broke the Super Bowl record for most yards in a game before Harmon picked up a first down with five minutes left. Theismann completed a third-down pass to Brown inside the 10, and now there were three minutes left. Riggins then appeared to possibly fumble at the 6, and the Dolphins recovered.
Replays were inconclusive, but the whistle had blown, so the ball was dead. After the two-minute warning, Theismann rolled to his right and fired to Brown for the clinching score. Touchdown, Washington Redskins! The 'Skins went up by ten. Shula inserted backup quarterback Don Strock, but he only completed one pass out of four, and the Redskins came away with their first Super Bowl victory, 27-17.
Super Bowl XVII: Aftermath and Awards
Riggins was named MVP for his record-breaking 166 rushing yards, including his 43-yard touchdown run, on another record 38 carries. There was no doubt that he was the MVP of this game. It's hard to even think of who would be the second-best player of the day. But if I was to pick one, I'd go with Theismann, who had a pretty good day himself despite his two interceptions. He still had a solid performance, and if he didn't knock down that one pass, it was curtains for Washington. But again, Riggins was the reason the 'Skins won, and he deserved MVP fully.
Who was the MVP of the losing team? That has to be Fulton Walker. He returned a kickoff 98 yards for a score, the longest scoring play in Super Bowl history at the time. He had 190 kickoff return yards, going for 47.5 yards per return. His 98-yard score would hold up as the longest for 14 years before Desmond Howard broke it in Super Bowl XXXI.
The least valuable player has to be Woodley. He had a dreadful performance, completing just four of his 14 pass attempts. Yes, he had 97 yards, but 76 of those came on one play. Take out that play and he went three-for-13 for 21 yards and an interception. That's about as bad as it gets. Strock may not have done better against this ferocious Washington defense, but Woodley failed his team in this game.
The biggest play of this game was, obviously, Riggins' 43-yard touchdown run on fourth-and-one. That's the one you see in the Super Bowl highlights. If he doesn't make that first down, it's possible the Dolphins could have managed to hold the lead. I don't think they would have; I think Theismann was moving the ball well enough that the Redskins would have gotten another try later in the game. But Riggins' run won it for the 'Skins, who weren't giving up anything to Miami's impotent offense.
The biggest play no one remembers? Well, I would say Theismann knocking down the pick-six for Bokamper that would have put the game on ice for Miami. However, I've found that a lot of people *do* remember that play. So, I'll have to go with Theismann's third-down touchdown pass to Brown inside the two-minute warning. If the 'Skins don't convert there, Moseley kicks a field goal and they go up by six.
Yes, Miami hadn't done anything all through the second half, but they would have had hope. Not only that, the Redskins would have to kick off to Fulton Walker. Could Walker have taken one back to midfield and set up a game-winning touchdown drive by Strock? We'll never know because Theismann found Brown to ice the Redskins' victory.
The best player in this game that no one remembers is Redskins running back Clarence Harmon. Yes, he had only 40 yards, but he actually had a better yards-per-carry than Riggins. He picked up a couple of first downs in key situations that helped Washington keep drives going. It's hard to think of a player that no one remembers out of these two teams, but Harmon is the closest one to it.
For homework today, I have an easy one again. Hail to the Redskins by Adam Lazarus is my pick. If you've never read Lazarus, you really need to as soon as you can. He has three books that I'm recommending for homework, this one and two more in the upcoming weeks. He is a fantastic writer.

I wish I was as good as him. His book goes through all three of the Redskins' Super Bowl victories, so you can pull it out again for Super Bowls XXII and XXVI.  You can listen to his interview on The Football History Dude podcast below.
The Redskins finished this season with just one loss, becoming one of only three NFL teams to accomplish that feat while winning the Super Bowl. The others are the 1984 San Francisco 49ers and the 1985 Chicago Bears. All other 15-win teams have come up short, and the one 16-win team also came up short in the big game.
Now you've got to play 17 and go 16-1 for a chance at going 19-1 to join this list. Obviously, the Redskins played fewer games than the Niners and Bears, but they get to go down in history as one of the only three teams to win a Super Bowl in a one-loss season.
In two weeks, the Redskins will try to repeat as Super Bowl champions. The only thing standing in their way of becoming a dynasty is the Los Angeles Raiders, a team that finished with only one loss in 1982 as well but lost in the second round to the Jets. Can L.A. rebound from that early exit and bring the City of Angels its first Super Bowl championship? Or can the Redskins repeat and usurp Ronald Reagan as the biggest dynasty in Washington?
It all comes to a head in Super Bowl XVIII. If you want to read about it early, find my Great Eighties book at tommyaphillips.com. Until then, so long!
Lombardi Memories is a show that takes you back in time, into January or February, to the greatest one-day spectacle in all of sports. This is the every-other-Tuesday podcast that looks back at each and every one of the 50-plus Super Bowls and tells the story of who won and why.  Tommy A. Phillips is your host on this Super Journey.  He's an author of multiple NFL books.  You can purchase below.
Books From The Host Of Lombardi Memories
Please Note – As an Amazon Associate, I earn from qualifying purchases
More From Lombardi Memories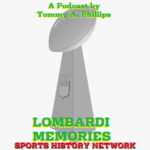 Today we have Super Bowl XLII, which was held on...
Read More